Cucumbers can be tricky food to serve to babies the first time, but that doesn't mean they're off the table! Here's how to safely serve cucumber to babies using a baby led weaning approach.
Parents of babies starting solids may be confused about serving cucumbers to little ones. It can be more difficult than other foods since cucumbers are firm and typically aren't cooked. But there are a few options if you'd like to give your baby a taste of this refreshing summer veggie!
Jump to:
Can Babies Have Cucumbers?
Babies can have cucumbers once they are ready to start solids, around 6 months, using a baby led weaning approach. However, since they are round and can be hard, it's important to prepare them correctly in order to avoid choking. Not all parents will be comfortable serving cucumber, and if that's you, no worries! You can wait until about 12 months, when chewing skills are more developed.
Baby Beneficial Nutrients
Cucumbers have a very high water content, so they're hydrating and can promote regularity. They're also contain vitamin K, potassium, and antioxidants.
How To Serve Cucumbers For Baby Led Weaning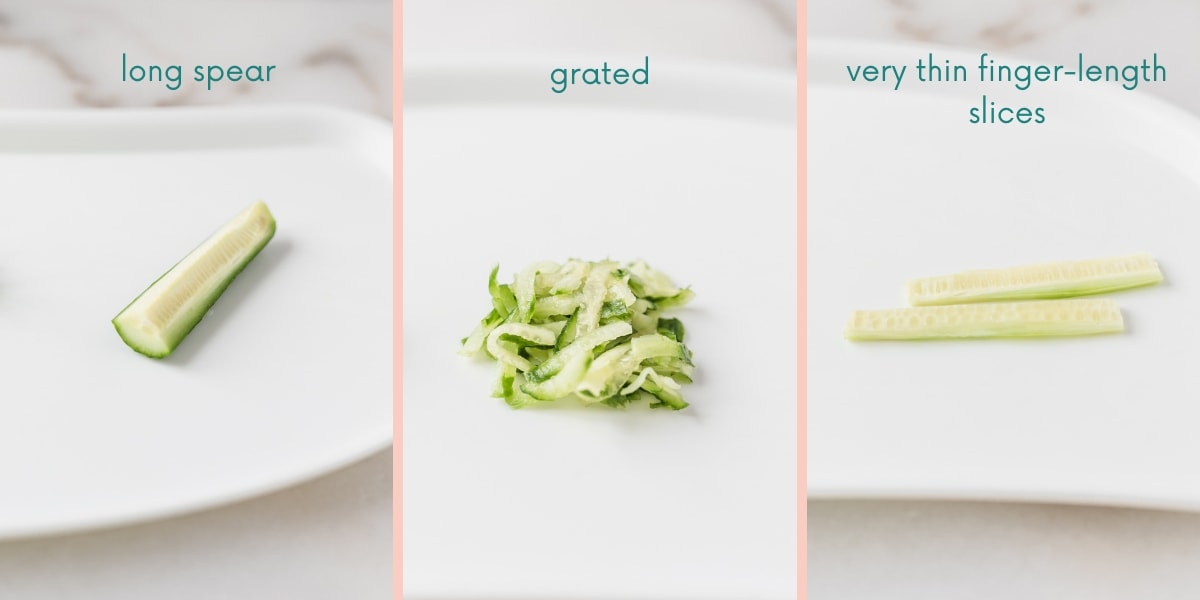 1. Large unpeeled spears (6-8 months)
Not all parents will be comfortable serving this way. If you aren't, just skip it! Very young babies first starting out can naw on cucumber spears. The long shape is easy for baby to grasp, and the skin helps keep the veggie intact so that pieces aren't accidentally broken off. Though baby likely won't actually eat anything, the cold vegetable spears can help sooth gums, and baby might get a few watery seeds off the spears. Cut a cucumber into quarter lengthwise so that it is no longer round, then cut a quarter into a long spear about the length of your finger or a little longer. Once baby has teeth or is able to bite pieces off, it's best to no longer serve cucumber this way to avoid choking.
If baby does accidentally get a piece off, don't reach your finger into baby's mouth, as this can push it further in. Calmly coach baby to spit it out by showing him how to lean forward, open his mouth and stick his tongue out. You can also place you hand under baby's chin to encourage spitting out.
2. Grated (6+ months)
You can serve babies as young as 6 months grated cucumbers, though they likely won't get a lot in their mouths. Simply place a pile of grated cucumber on the tray or plate, and let baby rake or scoop it up toward his mouth. You can also stir grated cucumber into sauces, such as tzatziki.
3. Peeled, paper-thin strips (9+ months)
Once babies are a little older and can chew a little better, you can peel long pieces of cucumber and cut into super thin strips to try. After 12 months, you can use the same peeling and paper thin slicing method with half-circle shapes.
FAQ
Are Cucumbers a Choking Hazard?
Yes. Because cucumbers are firm and round, they can be a choking hazard. That's why it's very important to prepare them correctly for babies if you'd like to serve them.
Are Cucumbers a Common Allergen?
No, cucumbers are not a common allergy, though any food could potentially cause a reaction.