Learn about the benefits of responsive feeding for your child's health and happiness. Our expert guide provides practical tips and real-life examples of this approach to establish healthy eating habits and promote a positive relationship with food.
Each baby is born with the ability to self-regulate food intake with built-in hunger and fullness cues. But as you may have experienced, those cues can easily become overridden with time and external pressures, causing an unbalanced and even unhealthy approach to food and body. The good news is that as parents, we can help our babies maintain those natural hunger cues through an approach called responsive feeding, so that they can grow up into healthy, happy, competent eaters!
Jump to:
What Is Responsive Feeding?
Responsive feeding is a feeding style in which parents notice and respond to a child's hunger and fullness cues and respond appropriately. It is a way of practicing the division of responsibility, where the parent provides nourishing meals, and the child decides how much to eat; but because babies cannot yet feed themselves, they rely on parents to to notice and respond when they give hunger and fullness cues.
Responsive feeding is a two-way relationship rooted in responsive parenting1, which is a timely, supportive, and focuses on communication skills.
It requires that parents be fully present and attentive at mealtimes, paying close attention to hunger and fullness signals and responding appropriately by providing more food or ending the meal based on baby's cues.
Responsive feeding can be used at all stages of child feeding from breastfeeding and bottle feeding and through toddlerhood3. It can also be used with baby led weaning and spoon feeding! In this article, I'm going to focus on the starting solids stage, around 6-12 months.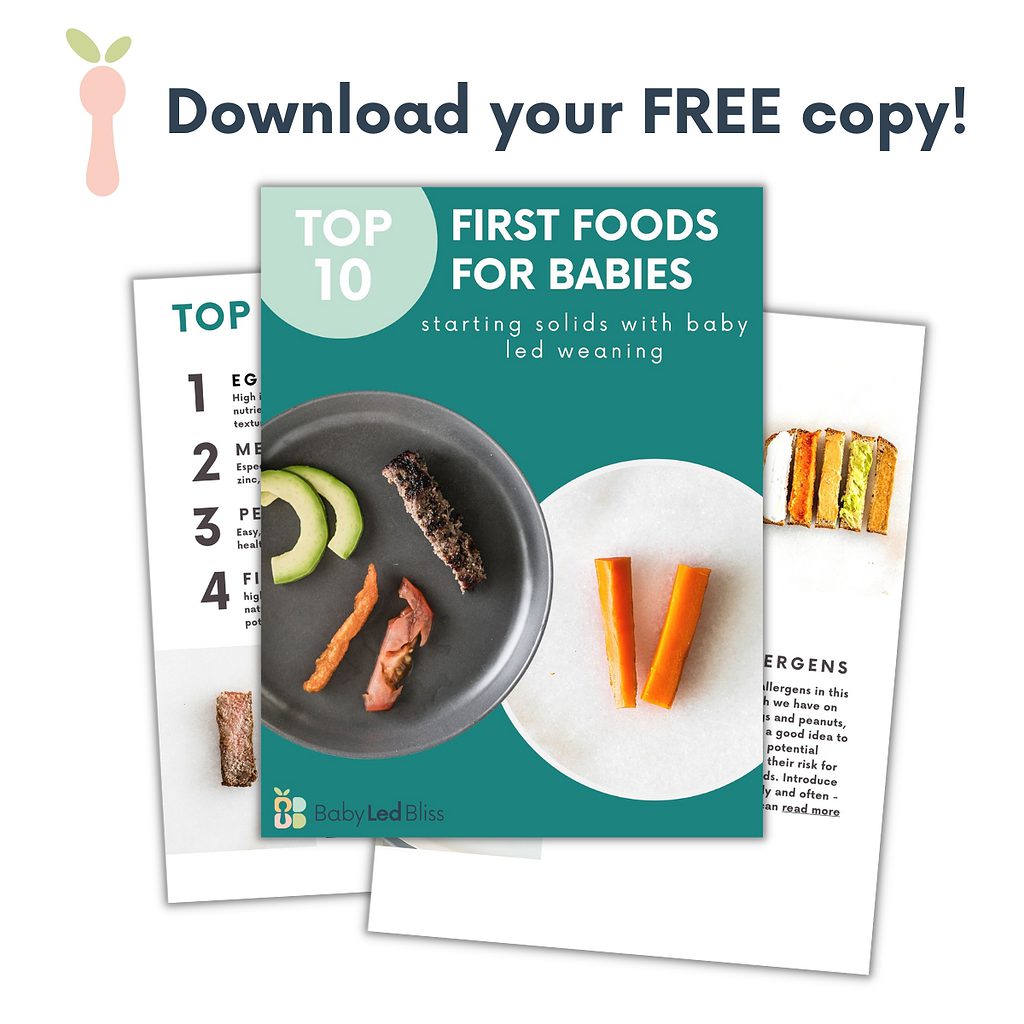 Why We Should Practice Responsive Feeding
There are many benefits to a responsive feeding style2. One of the biggest is that it helps foster a healthy relationship with food from the very beginning as baby learns to trust his own body cues. By respecting your baby's cues that he is hungry or full, you are helping to preserve the natural regulation babies are born with. Babies who are fed in a responsive manner are more likely to:
Self-regulate food intake
Have healthy eating patterns
Regulate emotions without the use of food
Maintain a healthy weight
In addition, responsive feeding helps you bond with your baby, as he learns he can trust you to meet his needs when he needs them. By observing and responding in a nurturing way at mealtimes, you and baby are both learning to effectively communicate with one another. This sets the stage for happier, less stressful mealtimes.
How To Practice Responsive Feeding
In order to be responsive, parents must be attentive. This helps you better observe baby for cues he is giving you. Parents must also be active - engage with your baby as you assist them in the feeding process. Some keys to responsive feeding to remember:
Make the environment pleasant, comfortable and free of distractions (no TVs phones, or tablets!)
Encourage and observe baby's hunger and satiety signals (more on this below).
Promptly respond and be attentive to baby's needs in a warm, nurturing, and emotionally supportive way.
Baby Hunger and Fullness Cues
In order to respond to baby's hunger signals, parent must first recognize them. This can be easier said than done since some cues are more subtle. But if you pay attention, you will start to recognize them over time so that you can respond appropriately.
Signs Baby Is Hungry
For breast and bottle feeding babies:
Rooting (turns head toward breast, bottle, or anything that touches his face and opens mouth)
Makes sucking motions or noises
Brings objects or hands to mouth, sucks on objects
Flexes arms and legs
Cries or fusses (this is often a later sign, after others are missed or not responded to)
For babies starting solids:
Smiles, gazes or coos at parent during mealtimes to show he wants to continue
Leans toward spoon or food and opens mouth
Reaches for or points to food
Shows excitement when food is offered
Focuses on and follows food with eyes
Uses words, sounds, or hand signs to indicate hunger or wanting more (older babies)
Signs Baby Is Full
For breast and bottle feeding babies:
Decreases rate of sucking or stops altogether
Spits out nipple or milk
Is easily distracted
Moves head away or closes mouth
For babies starting solids:
Slows pace of eating
Moves head away from spoon or closes mouth
Bats at spoon or pushes it away
Pushes food away or throws it on the floor
Plays with food or fidgets
Uses words or signs to signal "all done" (older babies)
When babies show signs of fullness, parents should respond promptly and supportively by ending mealtime, regardless of whether the food is all gone or not.
Examples of Responsive Feeding
Offering baby breast or bottle when he shows signs of hunger, such as sucking on hands and rooting, even though it's 30 minutes before he is usually fed.
Ending the bottle feeding session, even if there are still a couple of ounces left, when baby pushes the bottle away 3 times.
Offering baby another serving after she finishes all the food on her tray, when she says "more".
Ending the mealtime for baby when he starts throwing food on the floor.
Non-Responsive Feeding
Unfortunately, unresponsive feeding is pretty common for multiple reasons. We're more distracted as a society, always rushing and multi-tasking. Many of us grew up with unresponsive feeding methods, such as being pushed to "clean our plates".
Non-responsive feeding can override babies' internal hunger and fullness cues, affecting the ability to self-regulate feeding, and possibly lead to unhealthy eating habits later in life, so we want to be careful to avoid it.
Examples of Unresponsive or Non-Responsive Feeding
Propping up bottles while parent watches TV or does laundry
Giving pouches of food in the car
Letting baby walk around with a bottle of milk all day (this messes with predictable mealtimes)
Putting the bottle back in baby's mouth after he spits it out multiple times
Pushing the spoon in baby's mouth until the jar is done, even after he refuses food
Telling children to clean his plate (in order to get dessert, or face punishment, etc.)
Parents may be hesitant to practice responsive feeding because they are worried that baby is being underfed or overfed, or they may not be confident in their own abilities to recognize their child's cues. This is where faith in your child and self-compassion come in. Trust in the process and give yourself a little grace. With a little bit of practice and willingness to learn, you and your baby will both catch on, become better communicators, and grow closer together in the process!
Bottom line: Responsive feeding takes practice and patience, but the rewards are so worth it! Not only are you helping set your baby up to be a healthy, happy eater, but you also get the chance to bond with your precious baby! Mealtimes are fun and a time to connect, so let's start from the very beginning!