Looking for a healthy, natural shampoo or body wash for your baby? This helpful guide will help you decide between two popular options - Tubby Todd and Honest Company clean baby bath products!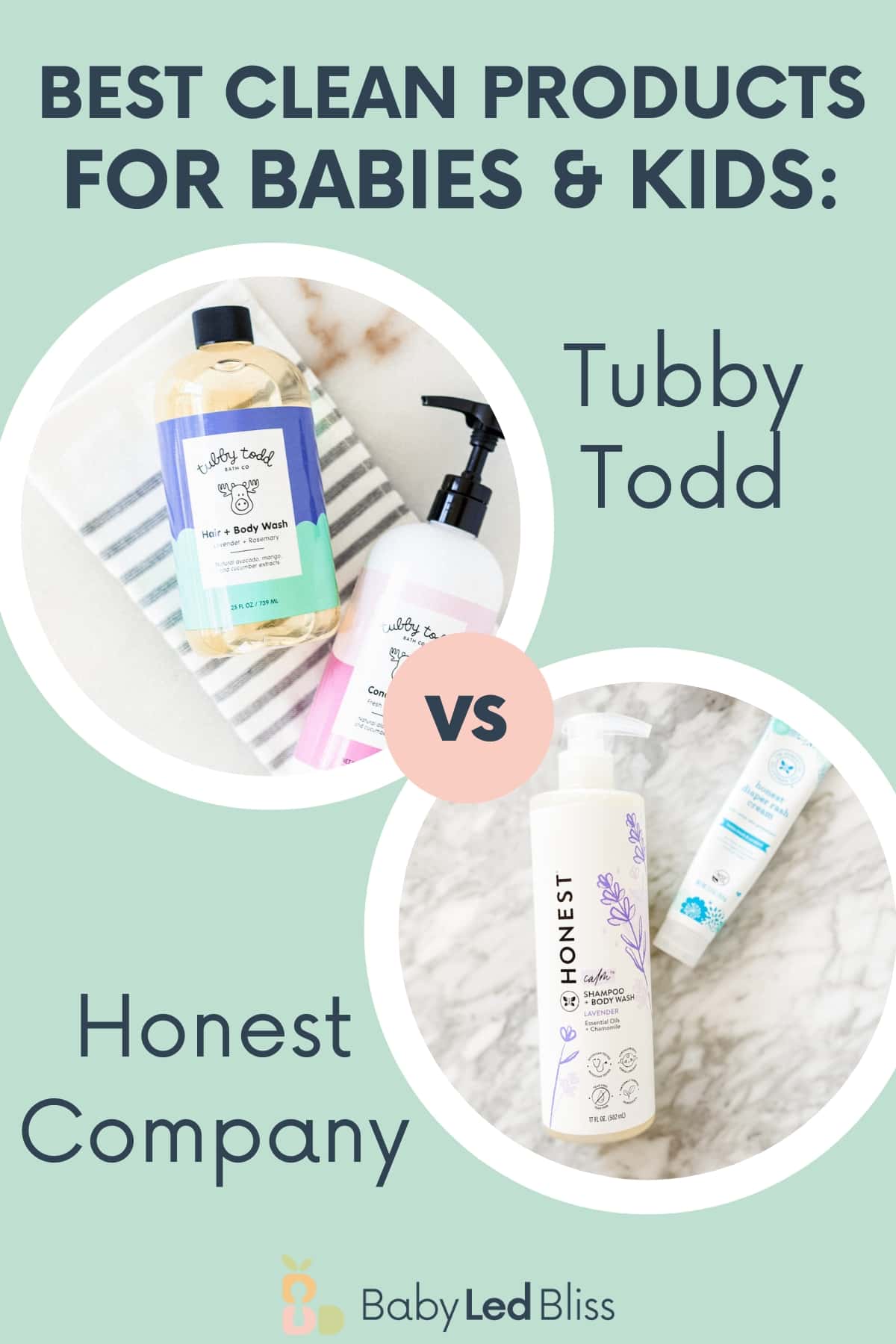 We all care about the health of our precious babies, from what they eat to the bubbles in their baths. If you're anything like me, you've probably decided to seek out healthier bath time products for your little one. If you're new to clean baby products, you may have only heard of a few brands. This guide is to help you pick between two of the most popular brands in clean baby bath products - Tubby Todd and Honest Company. To help you decide, here is a breakdown of each, the pros and cons, and my honest overall opinion of both.
Jump to:
Our Pick
TLDR: Tubby Todd is my pick, though they're both good.
Tubby Todd Hair + Body Wash
Tubby Todd is my favorite across all categories! I especially love the Hair & Body wash, All Over Ointment, Toothpaste, and Dream Cream.
We earn a commission if you make a purchase, at no additional cost to you.
Why Use Clean Bath Products For Babies?
The products we use everyday, including those we put on our skin, can have a lasting health impact. Here in the US, the personal care product industry is very poorly regulated, meaning manufacturer's are free to use just about anything in their products. There are currently only 9 chemicals banned by the FDA for use in personal care products for safety reasons. Compare that to the 1,600 banned or limited chemicals in the EU, and things start to look more than a little sketchy. Because some of the chemicals used in shampoo, soap, lotions, and other products can have lasting health effects, such as hormone disruption and potentially carcinogenic effects, it's best to steer clear of these chemicals and find something more natural and safer for your baby's skin from the very beginning.
If you're already a mama, you know everything ends up going into baby's mouth, so we want to make sure that we aren't sacrificing their health for soft, sweet-smelling skin. Even more reason yo use safe baby products as much as possible!
Tubby Todd Vs Honest Company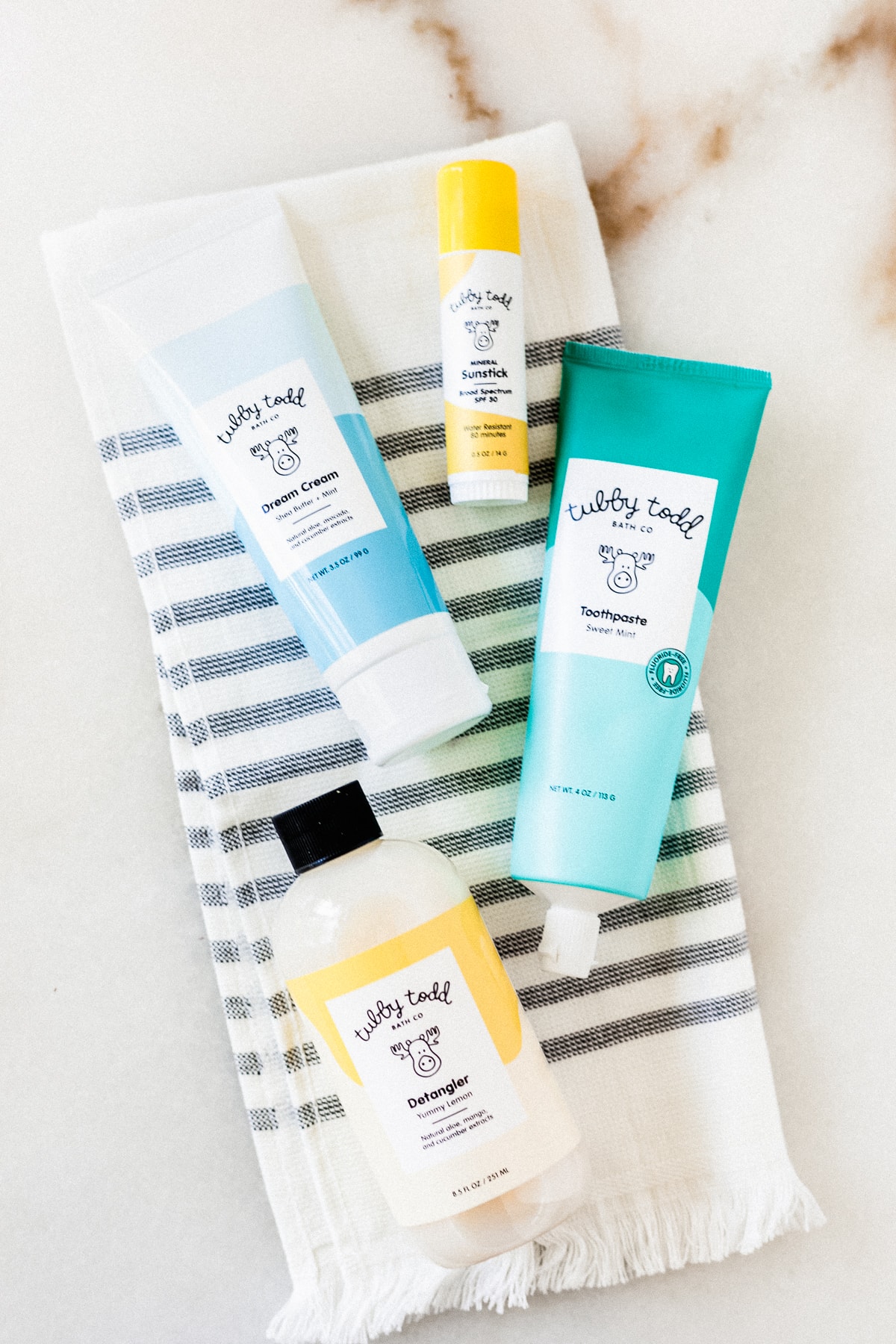 Tubby Todd Clean Bath Products
I LOVE all of Tubby Todd's products. They make all your favorite bath essentials, like body wash/shampoo combo, conditioner, bubble bath, lotion, and lots of baby-specific and (even mama-specific!) products like diaper cream, belly oil, sunscreen, and chest rub. They also make an amazing all-purpose ointment to heal everything from eczema to cradle cap. The best part, is the entire line is safe and WORKS BEAUTIFULLY! Unfortunately you can't say that about all non-toxic baby products.
All Tubby Todd products are non-toxic and free of parabens, SLS/SLES, phthalates, silicones, dyes, synthetic fragrances, gluten, dairy, and are 100% cruelty-free. According to their website, "We follow good manufacturing practices to make sure ingredients are cleanly sourced, animal cruelty-free, and as safe as possible for you and your little ones. We also follow the Whole Foods Premium Body Care standards and Natural Products Association Natural Personal Care Guidelines."
More to love: Tubby Todd is a family owned small business, and all products are sourced and made in the USA.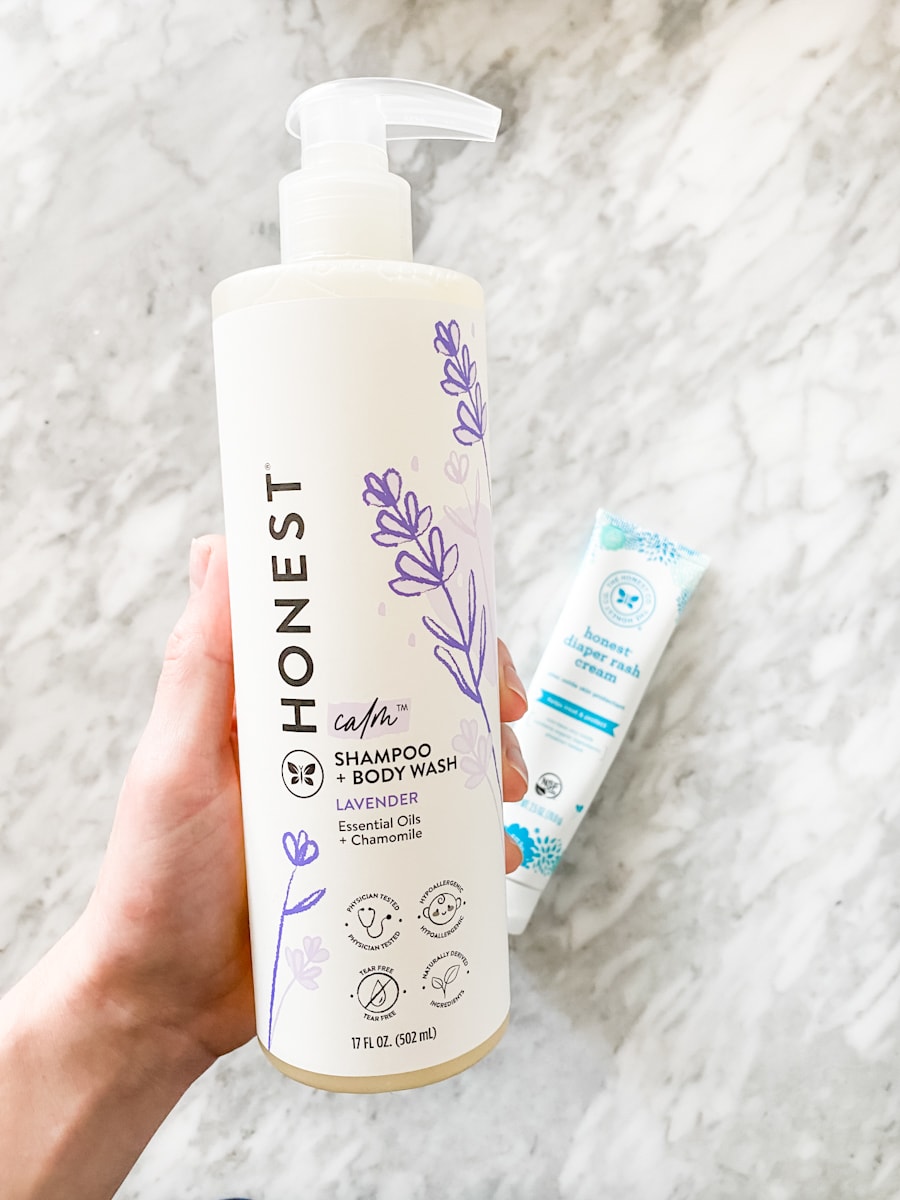 Honest Company
Before I discovered Tubby Todd, my go-to for baby products was Honest Company. Mostly because they were convenient to pick up at Target, and one of the few nontoxic options available. Honest Company makes bath time products for babies and mamas, including bubble bath, shampoo, conditioner and lotion, as well as diaper cream, ointment, and even diapers and wipes! They have also expanded their line of products to include makeup, clothing, and cleaning products, but here I'm just focusing on the baby line.
Honest Company keeps a running list of over 3,500 ingredients that are banned in their products, including Parabens, Phthalates, Dyes, Synthetic Fragrances, Formaldehyde Donors, and SLS/SLES. I've found the products to be effective and nice smelling without synthetic fragrances. They are also on the more affordable end and conveniently available at Target, Costco, and on Amazon, which is nice for busy mamas!
Though the Honest Company was founded by Jessica Alba in 2012, it is now investor-owned after several rounds of raising venture capital and going public via IPO in 2021. This is where once small-time companies start to lose appeal to many as the authenticity starts to wane. Most of their products are made in the US, but they do also manufacture some products in China, which can be a turn off.
Tubby Todd and Honest Company: A Comparison
For a quick visual comparison, here is a chart comparing Tubby Todd and Honest Company for your nontoxic baby bath time needs!
| Tubby Todd | Honest Company |
| --- | --- |
| Free of: Parabens, SLS/SLES, Phthalates, Silicones, Dyes, Synthetic fragrances, gluten, dairy | Free of: Parabens, SLS/SLES, Phthalates, Dyes, Synthetic fragrances |
| Not tested on animals | Not tested on animals |
| Safe for sensitive skin | Safe for sensitive skin |
| Great performance & smell | Good performance & smell |
| Can be more expensive | More cost-effective |
| 100% made in the USA | Some products made in China and Mexico |
| Family owned/small business | Large investor owned company |
| Only available online | Available online and in stores such as Target and Costco |
At the end of the day, I think Tubby Todd and Honest Company are both good, non-toxic choices for you little one's bath time routine and beyond. I prefer Tubby Todd, but each family's needs are different, so try them and decide for yourself!
Use my link to get 10% off at Tubby Todd! For more clean baby product recommendations, see more of my top nontoxic baby bath products.