Corn on the cob is a great for baby led weaning! Here is how to safely serve sweet corn to babies as young as 6 months using a BLW approach, including when you can serve kernels off the cob.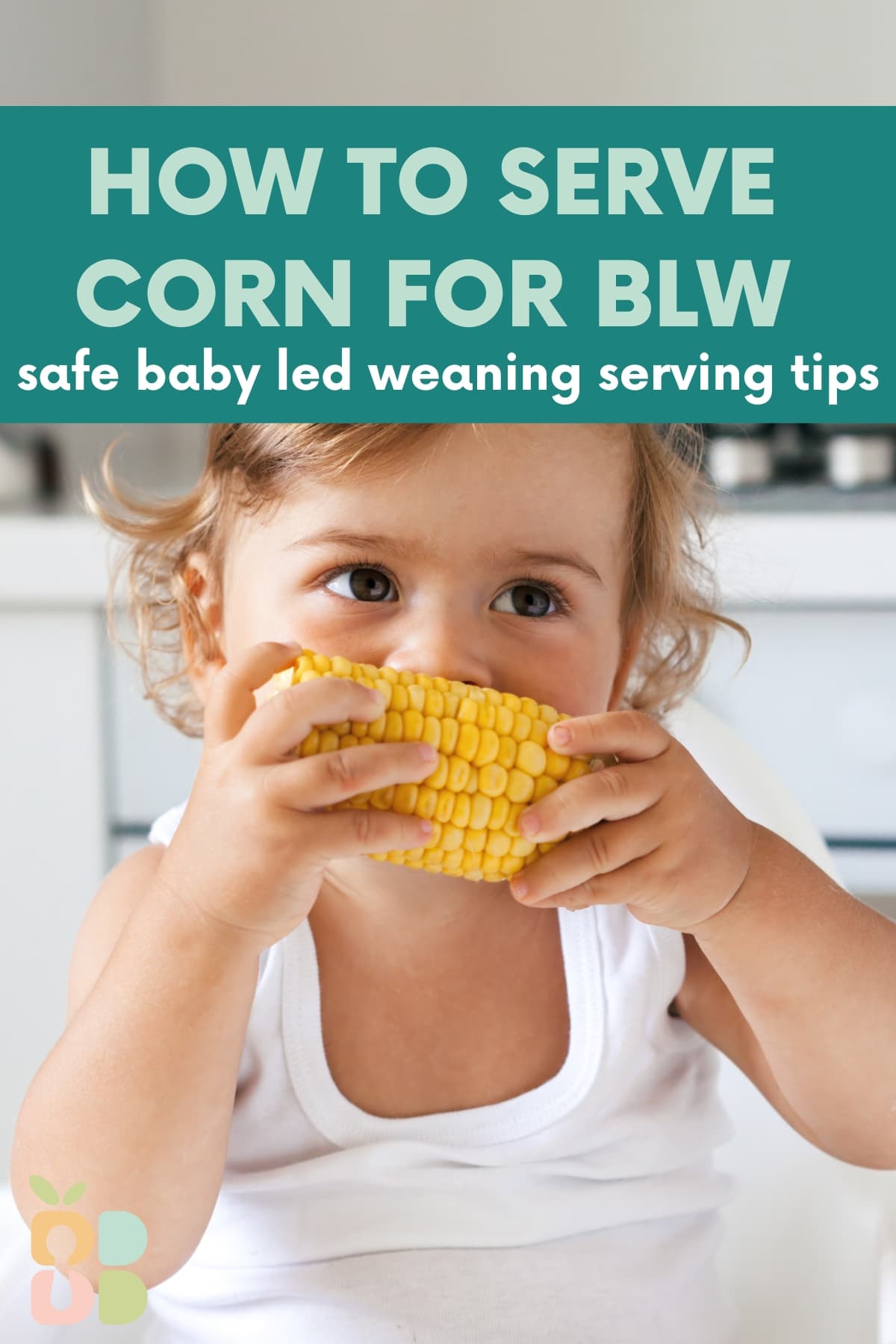 Sweet corn, or the yellow corn kernels most of us are used to, is a delicious food that's fresh and delicious in the summer months (here in the US) and widely available year-round in many forms. Technically classified as a grain, corn is nutritious and versatile. If you include corn in your family meals, you'll want to share with baby. Here is what you need to know about how to safely serve corn to babies using a baby led weaning approach.
Jump to:
Can Babies Eat Corn?
As soon as babies are developmentally ready for solids, around 6 months of age, they can eat corn. Because individual corn kernels can be a choking risk, it is best to serve cooked corn on the cob to babies using a baby led weaning approach.
Baby Health Benefits of Corn
Sweet corn is high in fiber (can help baby poop and improve gut health!). Corn is also a good source of several vitamins and minerals, including folate, potassium, B vitamins (including niacin, B5, and B6). Additionally, corn contains antioxidants that can support immune and eye health.
Gnawing on corn on the cob is especially helpful for strengthening babies' jaws and improving oral-motor development.
How To Serve Corn for Baby Led Weaning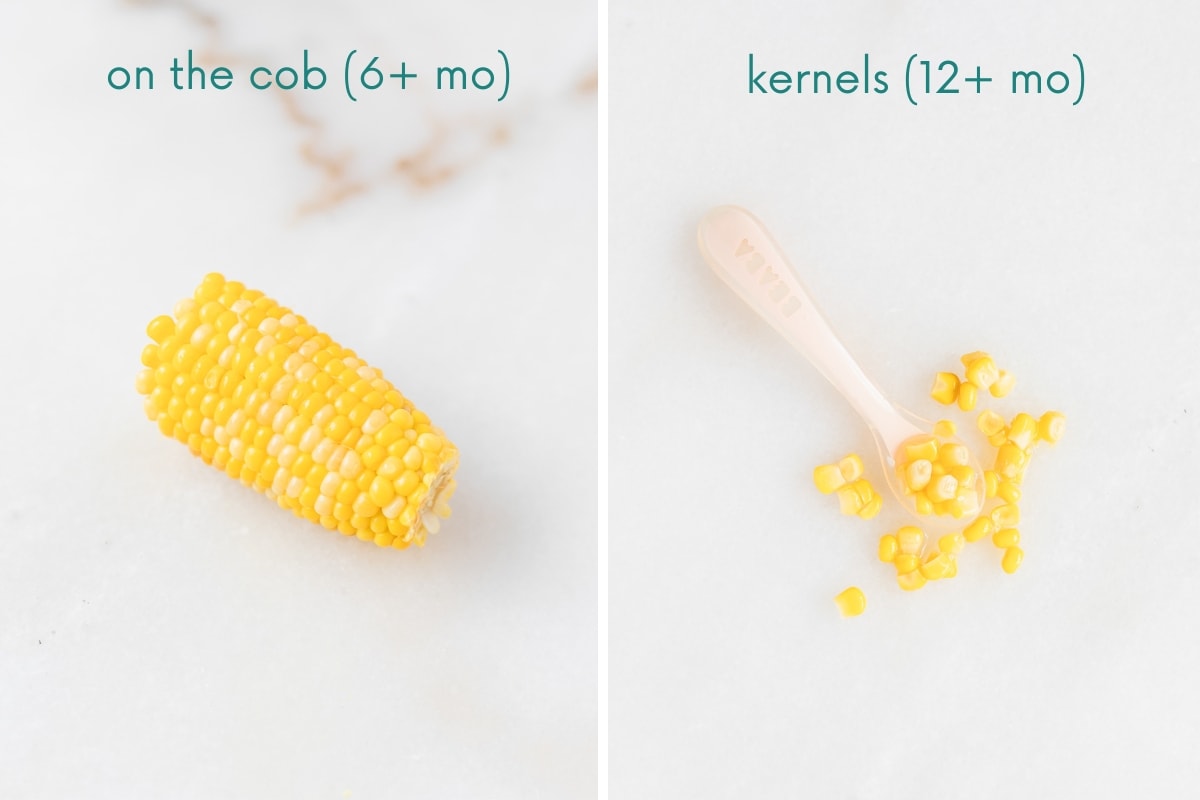 1. On The Cob (6+ months)
Because individual kernels can be a choking hazard for young babies, it is best to serve corn still on the cob to babies. This way, baby can easily grip the cob while gnawing on the edges and mashing the kernels. While baby probably won't ingest too many kernels, it's good practice for his jaw muscles and oral-motor skills. Cut corn cobs in half or in fourths so that baby can get a bigger portion of the kernels off.
2. Kernels (12+ months)
Once baby has had plenty of practice and can chew foods well, you can offer whole corn kernels. Baby can use hands to pick up corn kernels or practice with a spoon. Avoid giving too much at once, because you don't want baby to shovel big handfuls into his mouth at once.
3. In a Recipe
If you're including corn kernels in a BLW-friendly recipe, such as soup or fritters, be sure to give the kernels a rough chop to break up the round shape before adding to the recipe. Once baby can safely eat kernels (around 12 months), you can discontinue chopping them.
Best Ways To Prepare Corn for Babies
You can prepare sweet corn just about any way for babies, just be sure to avoid sugar or too much salt! Steaming, boiling, or grilling (inside the husk) are all great methods. Add a little butter after cooking if you'd like, or add flavor with finely chopped herbs, spices, or even compound butters!
Other Corn-Containing Foods Safe For Baby Led Weaning
Some other corn options for baby led weaning include cooked polenta or grits, which is dried and ground corn which is cooked into a porridge, or cornmeal, which can be dusted onto fish or chicken in a light coating for pan-frying.
Corn tortilla chips, popcorn, and cornbread can all pose a significant choking risk, so these foods should be avoided for babies.
FAQ
Is corn a choking hazard?
Individual corn kernels, which are small, round and slippery, are a choking risk. It is best to serve corn on the cob to babies younger than 12 months to reduce choking risk. Always follow the proper safety precautions and closely supervise when serving baby any food!
Is corn a common allergen?
No, corn is not a common allergen, though corn allergies do exist.
Is canned corn okay?
When fresh corn is not available, canned corn is fine (as long as baby can safely eat the kernels - see above!). Look for low sodium or no added salt versions, and BPA free cans. Frozen corn is also a good option and can be purchased on the cob.
Can corn help with baby's constipation?
Corn is high in fiber, which can help increase stool bulk and promote regularity.
Should I be worried about whole pieces of corn in baby's poop?
No! The outer shell of corn kernels is made of cellulose, a fiber that's difficult to digest, so it will appear in baby's poop, especially since babies don't chew food very well. Baby is still getting the nutrients from the inner portion of the kernel, and it is normal, even for adults, for the outer portion to pass through undigested.