Green beans are a nutritious option for little ones starting solids. Here is exactly how to prepare and serve green beans for baby led weaning babies.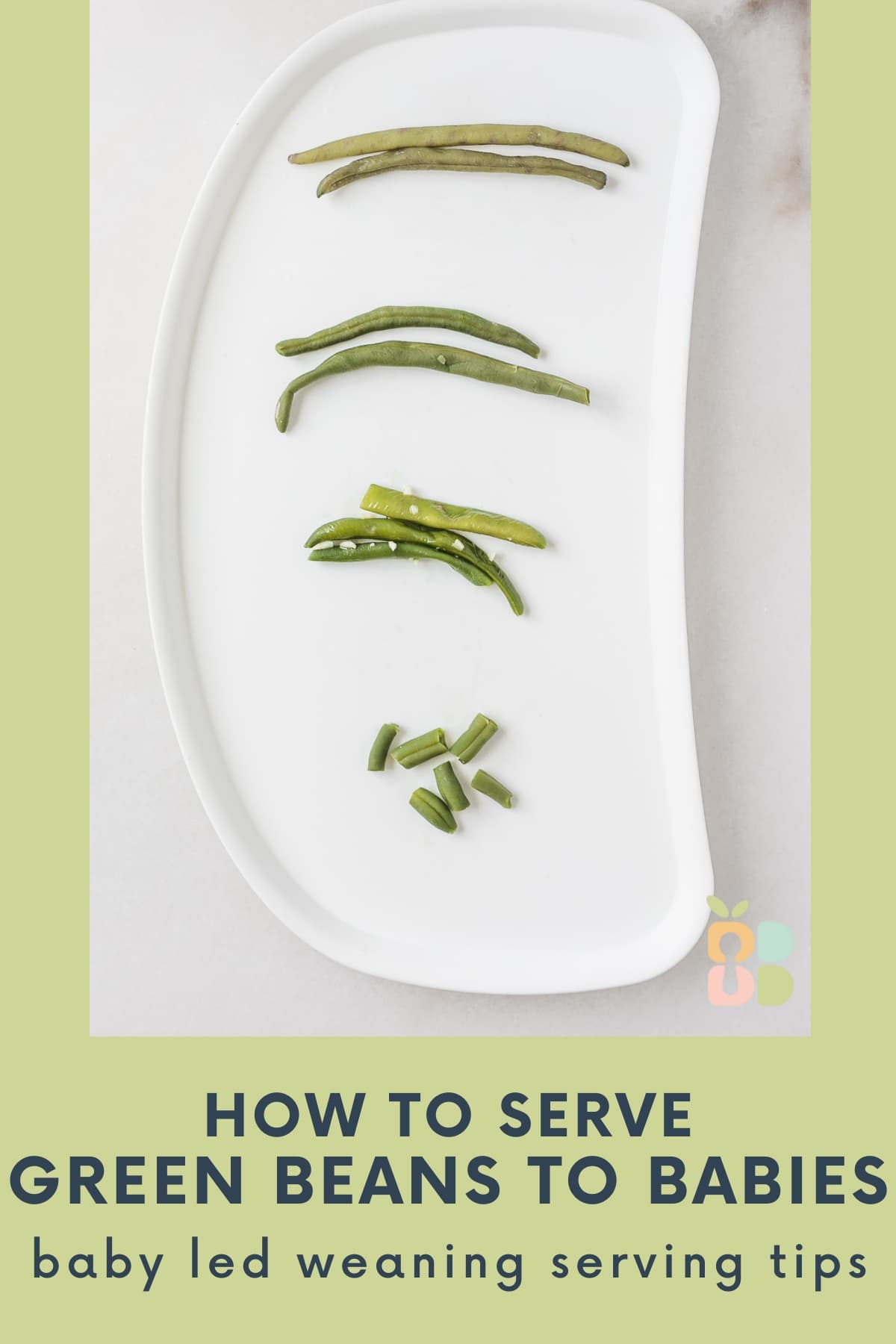 Thinking about babies eating green beans may conjure up images of greenish-grey mush from a jar sputtered all over the place. If so, you're not alone in that. Pureed green beans from a jar a common food for babies starting solids. But there is a better way for babies to experience green beans, especially if you're using a baby led weaning approach! Here's what you need to know to safely serve fresh green beans to your little one.
Jump to:
Can Babies Have Green Beans?
Yes! Babies can have fresh green beans as soon as they are ready to start solids, around 6 months old, if you're using a baby led weaning (or self-feeding) approach. Because they tend to be a tough vegetable, green beans must be cooked to a soft, smushable texture, but the long shape makes them great for little ones to grasp and bring to their mouths. Read on for safe preparation and serving tips.
Baby Beneficial Nutrients
It's a good idea to introduce babies to a variety of foods, including vegetables, from a young age. From a nutrition standpoint, green beans are healthy for babies, containing:
Vitamin A - great for eyesight and immune health
Vitamin K - good for bones and blood clotting
Vitamin C - good for helping babies absorb iron
Fiber - great for digestion
Best Preparation Method For Green Beans for Babies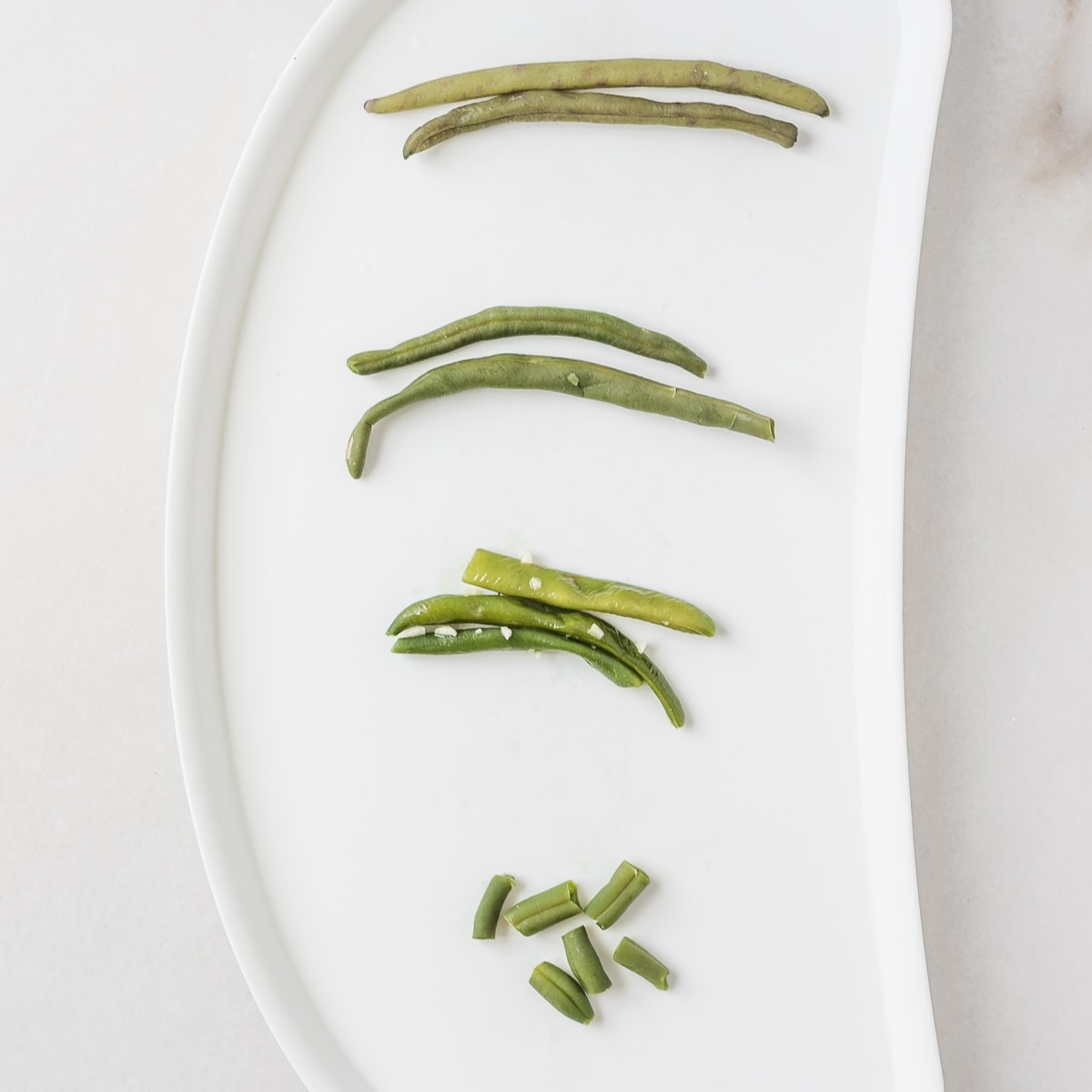 In order to be an appropriate texture for babies, fresh green beans must be cooked for quite a while, probably longer than you would like for yourself. For 6 month olds, until they have teeth and really have chewing down, they should be soft enough for you to smash between your index finger and thumb - darn near mushy. The best methods for this are moist cooking methods - meaning boiling, stewing, or steaming.
Boiling - Boil fresh or frozen green beans in water or broth for 15-20 minutes. Test the beans - it could take as long as 30 minutes to reach a very soft texture.
Steaming - Steaming is a great option for retaining nutrients. Steam fresh or frozen green beans in a steamer basket on the stove for 15-20 minutes. If the green beans still aren't soft after 20 minutes, steam for an additional 5-10 minutes.
Stewing - Green beans cooked for a long period of time in simmering liquid, such as old fashioned Southern green beans and beans cooked in soups and stews, are a great texture for babies! Simmering for an hour or more should give you a great texture, just keep the beans whole or on the longer side for young babies.
Sautéing - If you'd like to add a little more flavor to green beans, you can sauté them on the stove for a few minutes in olive oil and garlic (or other seasonings of your choice). Just make sure you steam or boil them first to maintain the soft texture. Once babies get older and have better chewing skills, around 12 months, they can start eating green beans that are a little less mushy.
How To Serve Green Beans for Baby Led Weaning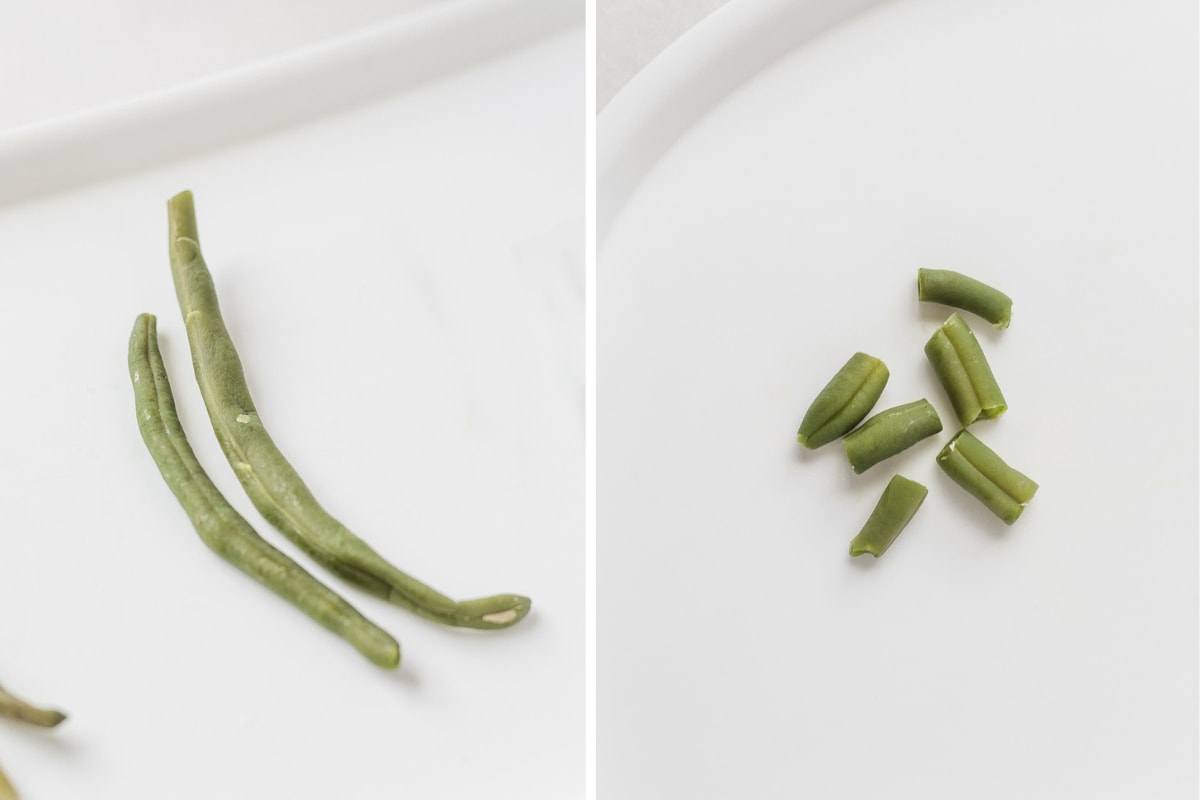 1. Whole Beans (6 months +)
Whole green beans are easier for younger babies to grip and bring to their mouths. Serving whole beans also reduces choking risk since baby is in control of how much goes into his mouth and can pull the bean out if it isn't soft enough to gum. Cook fresh or frozen green beans to a super soft texture using one of the methods above.
2. Cut into small pieces (9-12 months +)
Once baby develops the pincer grasp, you can start cutting soft cooked green beans into small pieces, about the size of your pinky nail. You can also start practicing with utensils at this stage, if you want, though most bites probably won't reach baby's mouth!
FAQ
Are Green Beans a Choking Hazard?
Though they are skinny, green beans are still round, so they are technically considered a choking hazard. That's why they must be cooked until very soft, and giving them whole is the safest option until baby gets the hang of chewing and manipulating food in his mouth.
Make sure to always follow safety guidelines any time you feed your child, and review common choking hazards.
Are Green Beans a Common Allergen?
No. Any food could potentially be an allergen, but green beans are not a common allergen.
Are Canned Green Beans Okay for Babies?
Canned green beans are actually a great texture for babies since they tend to be very mushy. Canned foods tend to be very high in sodium, so I would advise serving only low sodium or no added salt versions. Canned vegetables also tend to lose more nutrients than other versions.
Are Frozen Green Beans Okay for Babies?
I love frozen vegetables for babies! The freezing process causes cell walls in vegetables to break, which means they are often softer than fresh vegetables upon thawing and cooking. In the case of baby led weaning babies, this is good news! Frozen vegetables are also nutrient rich, since they are often flash frozen right after picking, meaning they lock in all the nutrients right from the field. Just make sure you are buying only vegetables with no added sauces or flavorings. (And they still need to be cooked to an appropriate texture!)