Offering the right texture of food during baby led weaning is crucial for your baby's safety. In this comprehensive guide, you'll learn about the right textures of food that are ideal for baby led weaning, how to test food for safety, common mistakes to avoid, and simple food ideas to offer at each stage - so you can feel confident starting solids with your little one!
Baby led weaning allows you to start solids with your little one with much more fun and freedom over the traditional puree method. But there are a few things to know so that you can keep baby safe. One question parents have is how to know if food is the right texture. So let's dive in to all things texture when it comes to baby led weaning!
Jump to:
What Is Baby Led Weaning?
If you're new to the concept, baby led weaning (or BLW for short), is an increasingly popular method of starting solids that skips the rice cereal and purees and goes straight to finger foods around 6 months. You can ready more about baby led weaning in my comprehensive post: What Is Baby Led Weaning.
If the idea sounds scary to you, rest assured, baby led weaning is completely safe, BUT you have to offer appropriately textured (and shaped) foods in order to avoid choking risks. That's what we're going to learn about today - so you can feel confident about starting solids with a BLW approach!
Why Texture Is Important For Baby Led Weaning
Appropriate texture is critical to avoid choking risks when starting solids with babies. Babies don't yet have the full range of skills - or teeth - to navigate chewing and swallowing all the food that adults eat. So it is important to give them food that they can easily mash with their gums. Foods that are too hard, crumbly, or round and slippery can pose a choking risk, so we want to avoid these.
A variety of appropriate textures helps baby learn to use the tongue and mouth faster as he explores new foods. Instead of progressing from thin purees, to thicker purees (which don't really require baby to move the tongue around the mouth) to lumpy mashes and finally finger foods as in traditional spoon feeding; baby led weaning allows exploration practice with a greater range, which can lead to mastery of oral skills more quickly.
Read more: Top Choking Hazard Foods to Avoid
The Right Texture of Foods For Baby Led Weaning
There are two types of appropriate textures for babies first starting baby led weaning around 6 months: soft gummable foods, OR foods fibrous enough that they cannot be broken off.
As mentioned, we want to offer foods that can be mashed with baby's gums. Think scrambled egg, avocado, ripe, or juicy peach. Avoid anything with firm skin that could be broken off into baby's mouth. This means firm fruits and vegetables will need to be cooked to a soft texture before serving. Fruits like apples or harder pears, and vegetables like zucchini and green beans should be steamed, sautéed, boiled, or roasted until they can easily be mashed, and any firm skin should be removed.
The second texture that can be offered before baby has teeth is a food that is fibrous enough that it won't break off in baby's mouth. These foods should also be large enough that they have a 'handle' for baby to hold while he naws or sucks on them. In this instance baby will suck the juices out (like with meat) or gum the food to sooth gums and explore. These are foods like steak, a skinless chicken leg, raw broccoli, or peeled cucumber spears. Once baby gets teeth, you should stop serving the raw veggies so that a small piece doesn't get broken off into baby's mouth.
The majority of the foods given should be from the mashable category. You can test them for safety using the smash test.
The Smash Test
You can use the smash test to ensure that foods are a safe texture for baby to handle. Using your index finger and thumb, squeeze the food. If it easily smashes, then baby will be able to mash it with her gums. If you cannot mash it, the food is too hard for baby and should be cooked more until it is softer.
What About Purees?
Many people think that purees are off-limits in baby led weaning. That's not true! Purees are just another texture to practice with. Foods that are naturally in puree form (such as yogurt or mashed sweet potatoes) are perfectly fine to serve to baby, as long as you're using a responsive feeding method. There are two main ways to serve these foods to baby using BLW:
Pre-load on a soft spoon and either hand to baby or set on the tray
Give to them in a bowl and let them get messy with their hands!
Common Mistakes To Avoid
Offering foods that are too hard, such as raw apple or carrot
Offering too small of pieces - make sure foods are the right shape and size for grasping.
Not peeling foods with tough skin, such as cucumber, pear, winter squash, and even chicken skin!
Overcooking meat - you want steaks and other meat to be juicy so that baby can such out the iron-rich juice!
Offering slippery round foods - such as cherry tomatoes, grapes, and large blueberries. Make sure to only offer these cut into quarters (halves are ok for blueberries) and after baby has learned to chew.
Offering foods that crumble in the mouth - such as dry, crusty bread or crackers
Read More: The Right Shape of Food for Baby Led Weaning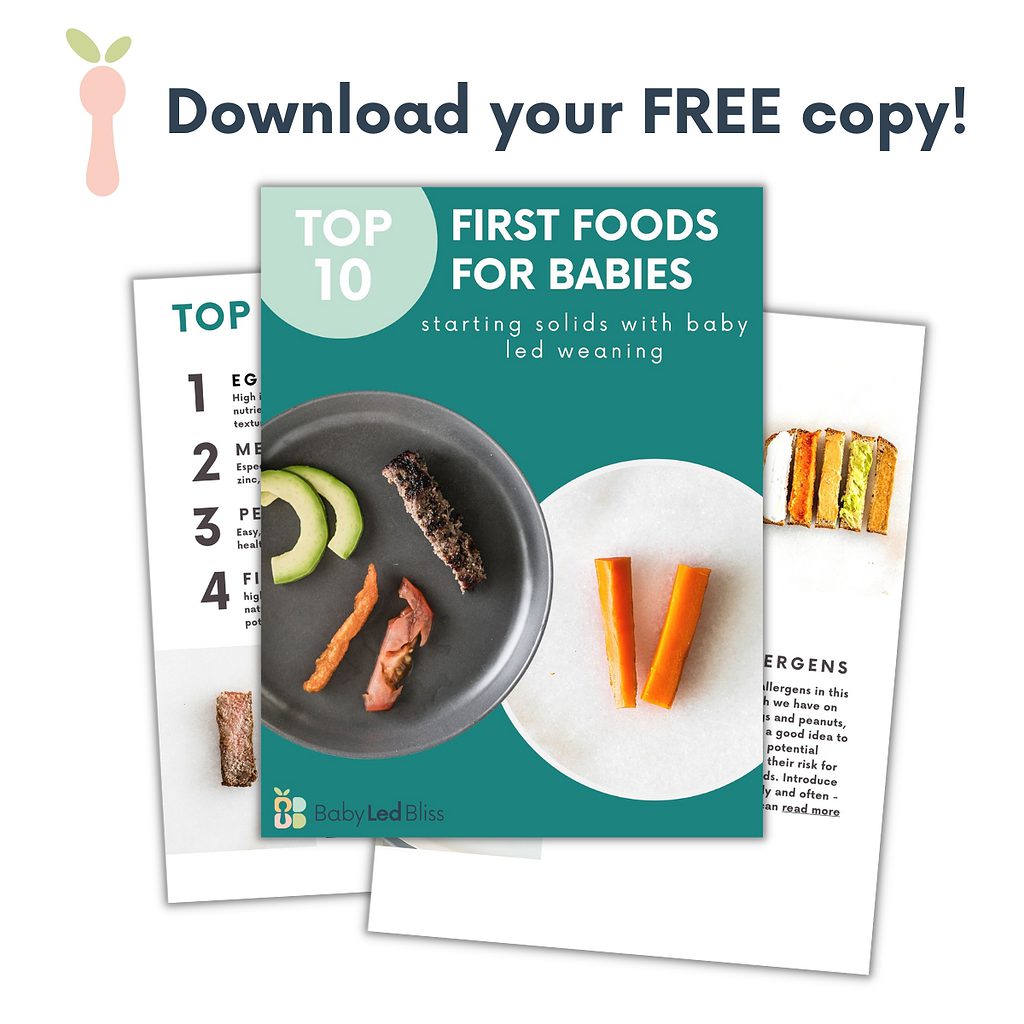 Examples of Appropriate Textured Foods for BLW
For 6 month olds:
Strips of pancake, french toast, or lightly toasted bread
Scrambled egg, sliced boiled egg or omelet
Strip of medium-rare steak
Soft cooked salmon
Shreddable slow-cooked pot roast or pulled pork
Oatmeal or yogurt
Fresh raspberries or a big, juicy strawberry
Soft steamed carrot sticks or green beans
Baked potato or sweet potato wedges, without skin
Banana
Avocado slices
Peeled cucumber spear or raw broccoli floret (remove from the tray after baby has eaten the tiny buds from the "tree" part of the broccoli
For 7-8 month olds:
At this stage, it is better to stop offering raw foods such as broccoli and cucumber, but continue offering the soft, gummable foods. You can add in more mixed dishes that may require utensils and smaller pieces of soft foods if baby is starting to practice the pincer grasp.
Cooked green peas or beans
Chili or curry
Halved blueberries
Chicken or tuna salad
Soft zucchini half-moons
Baked egg casserole
For 9-12 month olds:
At this stage, baby likely has the pincer grasp mastered and is starting to use utensils. He probably also has mastered chewing, so you can start cutting some foods, such as meat, into small pieces. Other foods may still be better in strips, such as toast or avocado. You can also offer vegetables cooked a little more al dente as opposed to mushy.
Quartered cherry tomatoes or grapes
Bite-sized pieces of chicken or steak (about the size of your pinky nail)
Bite-sized pieces of ripe mango
Al dente green beans
Roasted veggies or potatoes
Bite-sized pieces of cooked broccoli
It's important to note that babies should always be offered a variety of safe shapes and textures so that they can practice. As their skills progress, you can continue to offer foods from earlier stages as long as they remain safe.
Be sure to read how to modify recipes for BLW and the safety guidelines for serving all foods to babies before beginning baby led weaning!