Bread is a common first food for baby led weaning, but you've got to know how to serve it safely! Here is everything you need to know about giving bread to babies, from which bread to buy to how to serve it.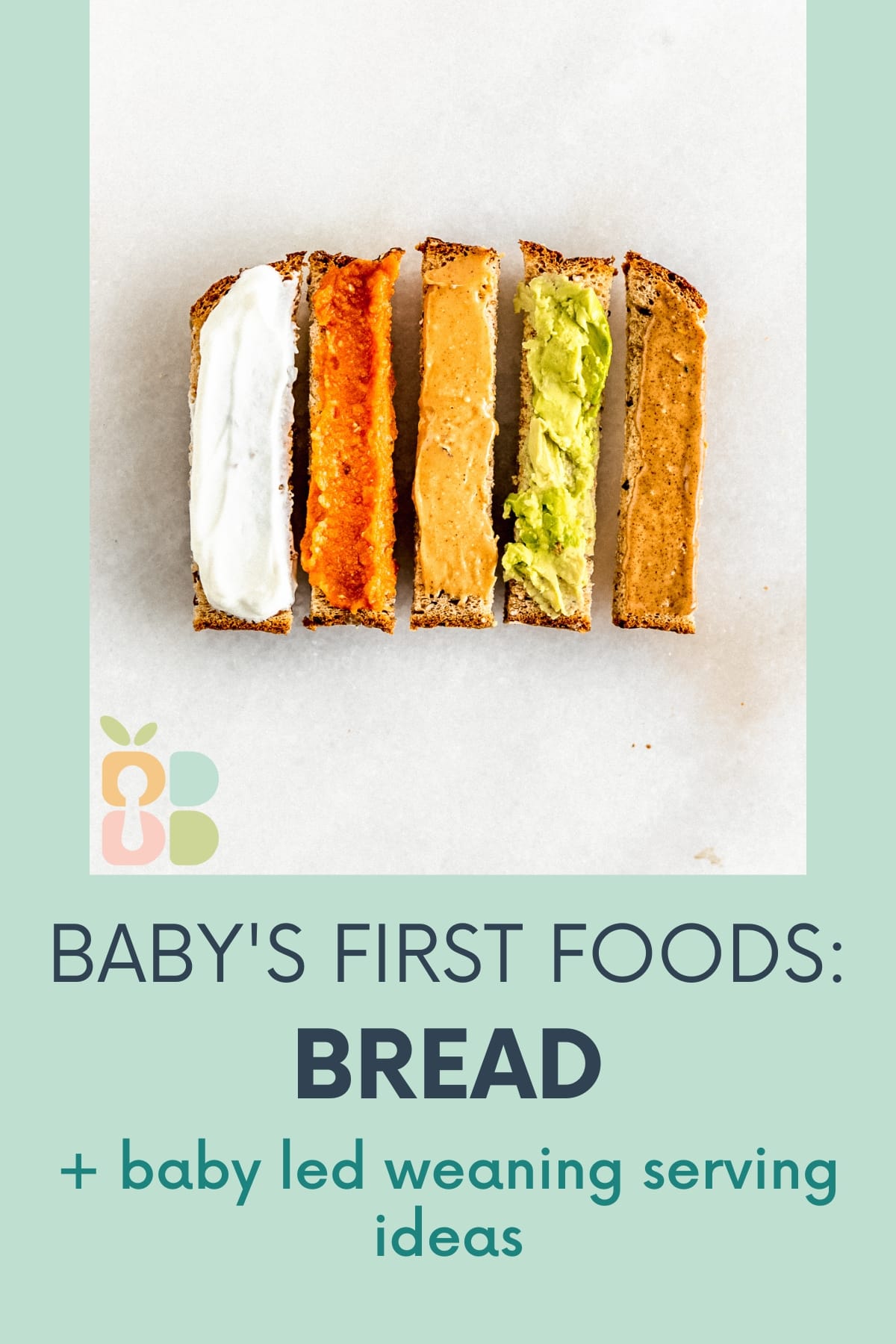 Bread is a common staple in most households, so if you're starting solids with a baby led weaning approach, it is likely that bread will make it onto baby's plate early on. That's great! As a dietitian and busy mom, I definitely recommend bread as a first food - but there are some precautions you need to take. Read on for everything you need to know about bread and baby led weaning.
Jump to:
Why Bread Is A Great First Food For Babies
I love bread for babies! It can be a great source of fiber and B-vitamins. It is inexpensive and quick to prepare. Bread is also an easy-to-grab vehicle for all kinds of nutritious spreads such as mashed avocado, yogurt, and nut butter. By taking advantage of the spreadability factor, you can really boost the nutrients in baby's meal - which is important because they have such high nutrient needs.
Bread is also great because it is an easy way to introduce and keep allergens in baby's diet. Bread contains wheat, a common allergen, and may also include others, such as egg, milk, and even soy. You can also top that bread with more allergen containing foods (hummus, nut butter) to continue exposure on a daily basis in a super simple way.
Read more about why allergen exposure is important in my guide to introducing allergens.
How To Serve Bread To Babies
The key to serving bread to babies is the right texture - we want baby to be able to mash the bread between his gums, but not pose a choking risk.
The best way to do this is to make toast fingers. Lightly toast the bread, remove the crust, and cut into finger-sized strips (for easy picking up). Spread with something nutritious and serve to baby!
You can start serving toast fingers around 6 months, and keep offering this way until toddlerhood! I didn't ever cut pieces of toast into smaller pieces, because the fingers were the easiest for my kids to handle until they were old enough for toast sliced in half or on the diagonal. As long as you offer other foods in smaller pieces once the pincer grasp develops, baby will have plenty of opportunity to practice.
French toast is another great way to serve bread to babies, because it's a nice, gummable texture, plus the added nutrition (and allergen exposure!) of milk and eggs. You can also bake cubes of stale bread into a strata for extra egg and veggie nutrition.
Things to Avoid:
The following things can be a choking risk, so be sure to avoid them when offering bread to baby:
Very fresh or soft bread - this forms a ball or clump with the moisture in baby's mouth
Dry, crusty bread - such as baguettes or artisan style sourdough
Dinner rolls
Bread made with honey - not a choking risk, but babies under one year of age should not be given honey because of the risk of botulism.
Best Topping and Spread Ideas for Baby Toast
There are endless ways to add nutrient-dense spreads to flavor baby's toast! Some of my favorites:
Peanut butter or other nut butter (almond, cashew, pecan, etc)
Plain whole milk yogurt (try a sprinkle of cinnamon on top!)
Hummus
Mashed avocado
Plain or veggie cream cheese
Homemade fruit compote (with no added sugar or honey)
Mashed salmon or tuna
Smooth, creamy egg salad
Pesto
Mashed pumpkin or sweet potato with cinnamon
Add some sprinkles!
(Not actual sprinkles, please!) Boost the nutrient density even more with optional *sprinkles* of nutrition. These can be good sources of iron, healthy fat, and/or antioxidants:
Ground nuts: walnuts, hazelnuts, almonds, pistachios, pecans, etc.
Seeds: chia seeds, ground flax seeds, hemp seeds, sesame seeds
Spices: cinnamon, nutmeg, turmeric, pumpkin pie spice, etc
Other nutrient boosters: wheat germ, wheat bran, nutritional yeast
Which Bread Is The Best To Buy?
Bread can be difficult to buy and check all the boxes. Many are high in sodium and sugar. There are also many lacking in whole grains. When choosing a bread to buy for babies, there are a few things we want to look out for:
Honey - No honey for babies under 1 year old.
Sodium - Look for a lower-sodium option when you can
Sugar - It can seem impossible to find a sugar-free bread for babies, but try to find one with no added sugar
Whole nuts or seeds - These can be a choking hazard
Texture - No super-soft, gummy bread (so no Wonder Bread!)
Whole grains - Look for bread made from whole grains (ideally 100% whole grain unless baby is vegan or has problems with constipation) - whole grain or whole wheat flour should be the first ingredient on the ingredients list.
My Top Bread Choices for Babies:
FAQ
Is Bread a Choking Hazard?
Yes, bread can be a choking hazard. That is why it's important to serve it properly. Avoid hard, crusty bread and very soft bread that can become gummy in the mouth. Read above for the proper way to serve bread to babies.
Is Bread An Allergen?
Yes, bread is a potential allergen. The main ingredient, wheat, is one of the top 9 allergens in kids. If your family eats gluten-free bread, then it does not contain the allergen wheat, but still may contain other allergens, such as soy. Be sure to read labels to make sure. Read about why it's important to introduce allergens early.
When Can I Start Offering Bread?
You can offer lightly toasted bread as soon as baby starts solids around 6 months! If it is the first time baby is exposed to wheat, make sure to leave any other allergens out of that meal so you can observe for a potential reaction. After that, you can keep offering it alongside other allergen foods!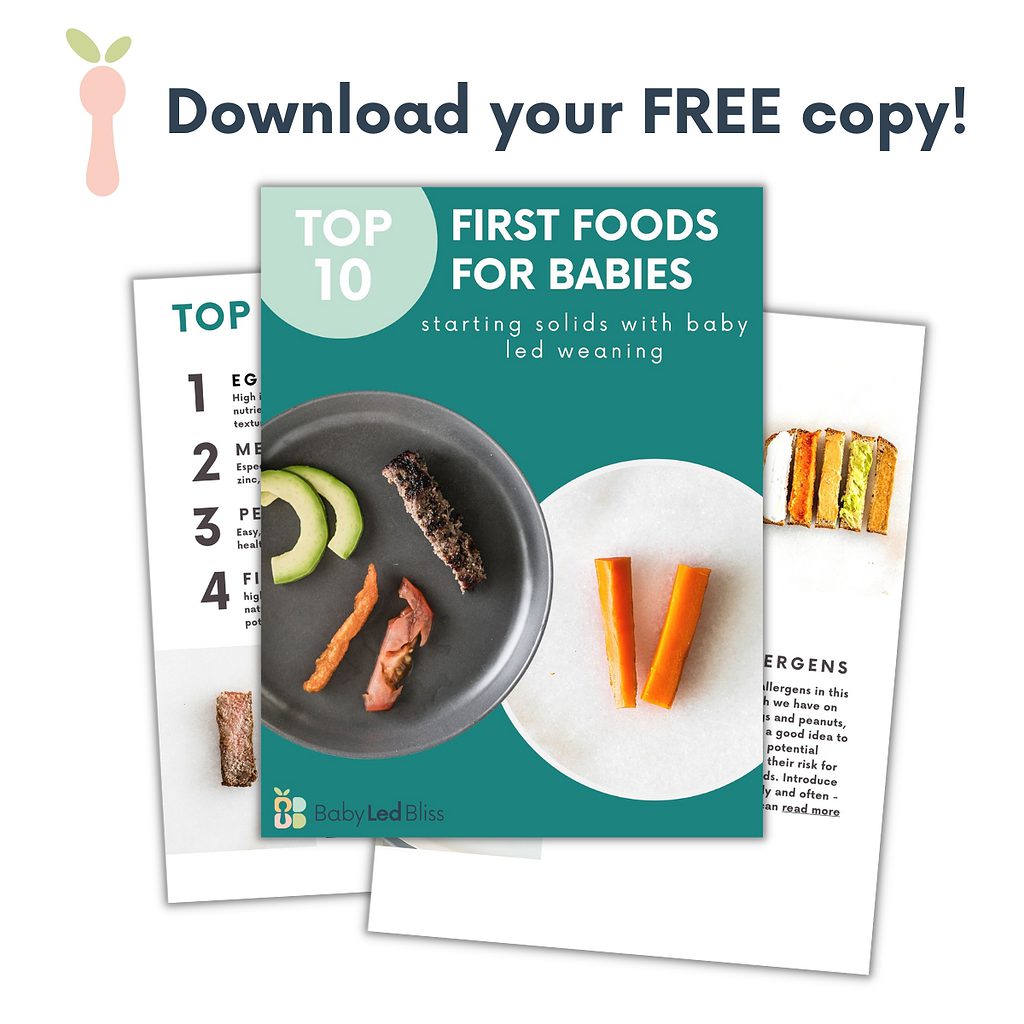 FYI: This post may contain affiliate links, which means that if you purchase something, I earn a small commission at no extra cost to you. I only recommend products I truly love and stand behind. Thanks for your support in keeping this little website running!