Strawberries are a delicious first food for babies! Learn how to serve strawberries using baby led weaning with these tips.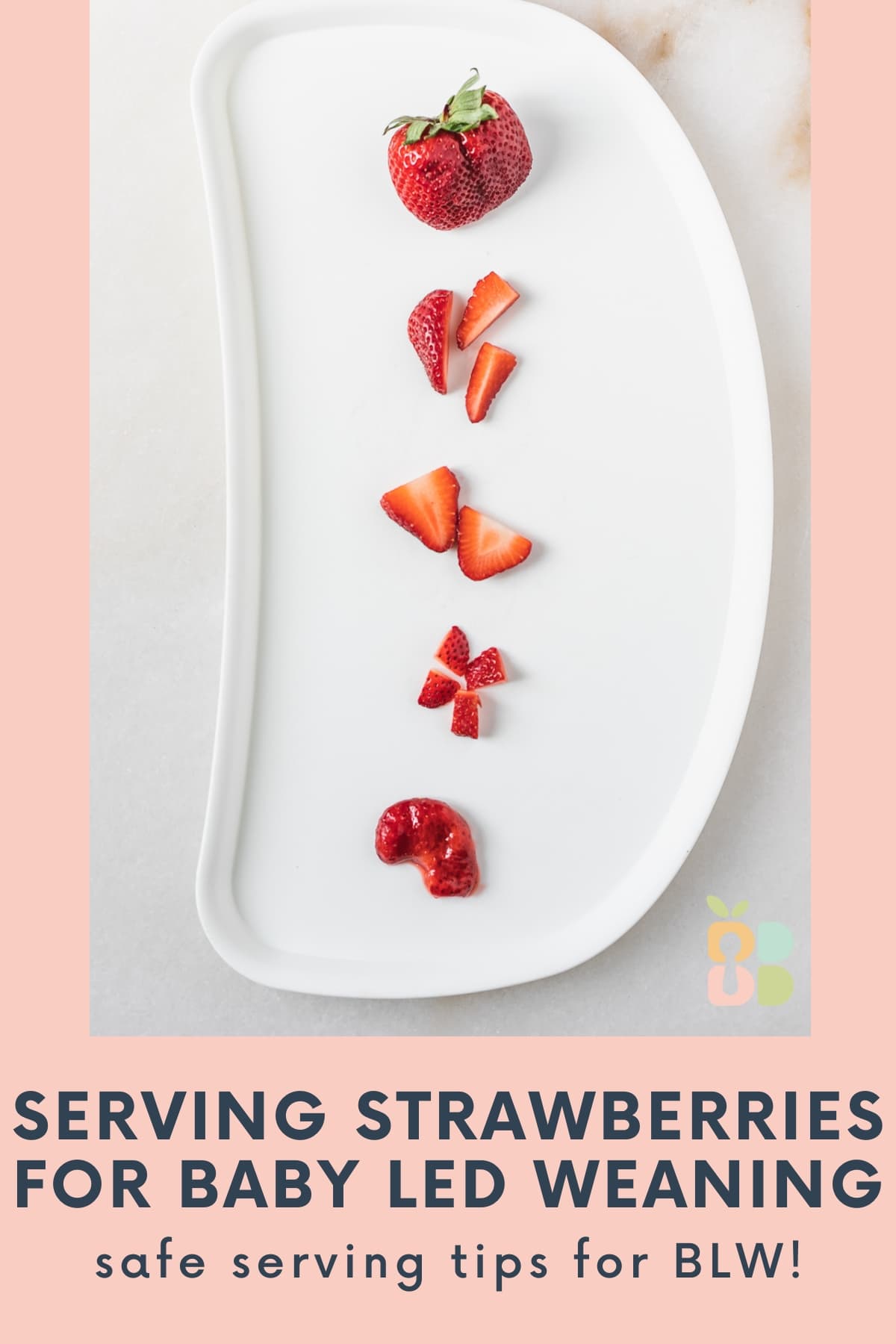 Juicy, ripe strawberries are perfect for serving to babies starting solids! But if you're a first-time parent, they may be a little awkward and confusing when you're new to baby led weaning and the world of starting solids. Here is exactly what you need to know about serving strawberries to your little one using a baby led weaning approach - no cooking required!
Jump to:
Can Babies Have Strawberries?
Yes! Babies can have strawberries as soon as they start solids around 6 months of age with the baby led weaning method. Just make sure they are soft enough for baby to gum, and a proper shape for grasping (and to avoid choking risk). Read more below for serving shapes.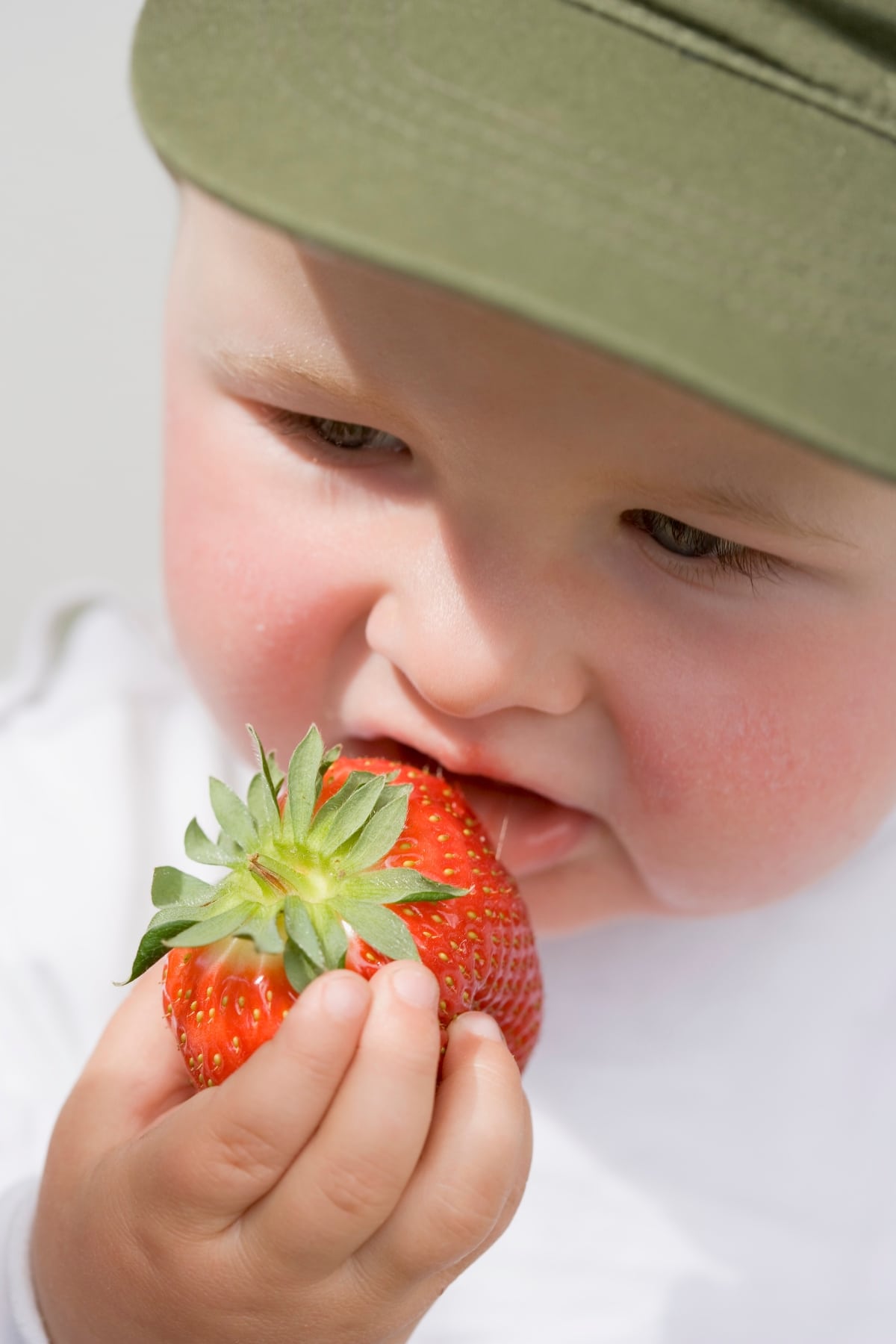 Baby Beneficial Nutrients in Strawberries
Strawberries are a good source of several nutrients, including:
Vitamin C (great for helping iron absorption!)
Manganese
Potassium
Folate
Fiber
Antioxidants
How To Serve Strawberries With Baby Led Weaning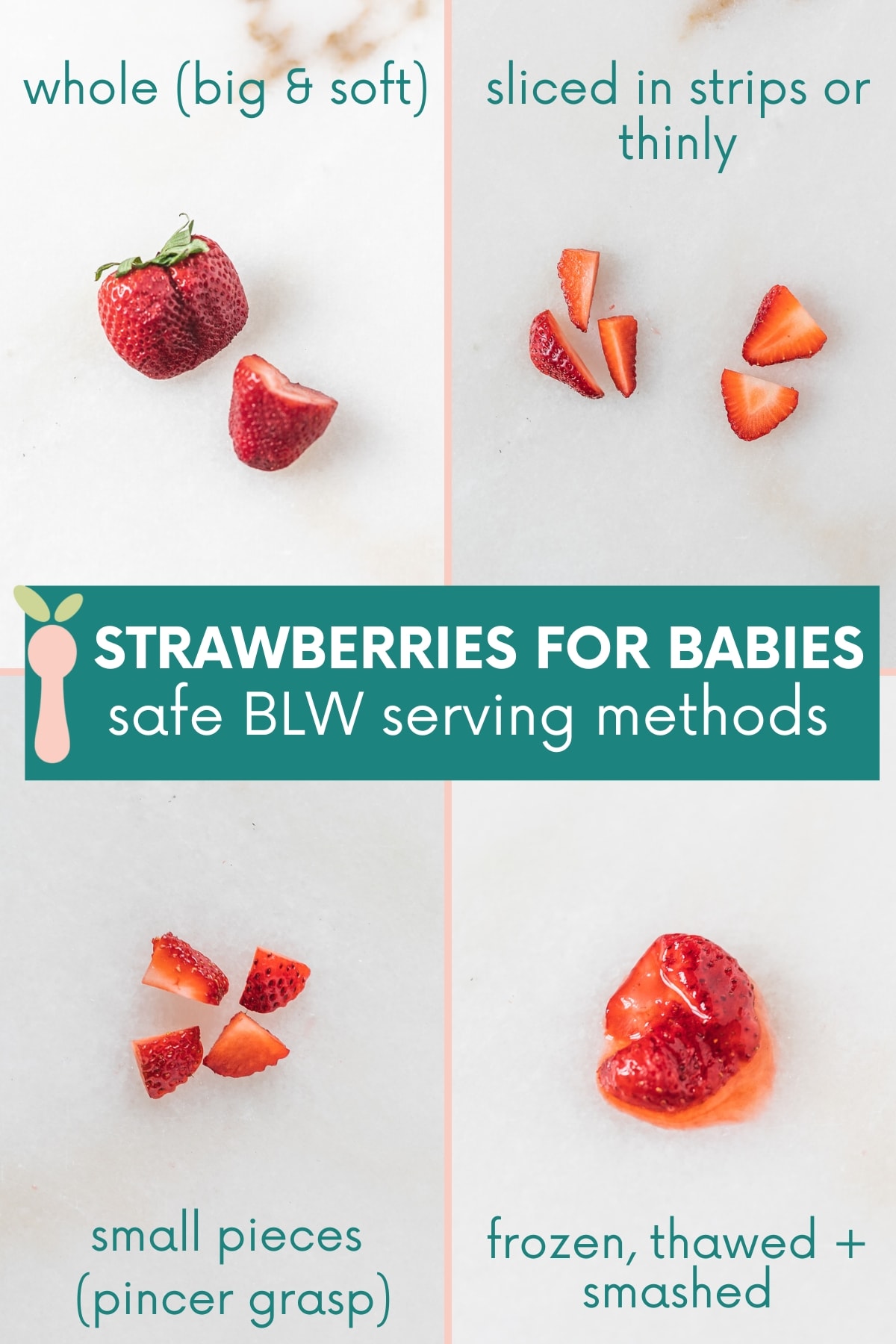 Strawberries can be served several different ways for baby led weaning babies, including whole! Just make sure that they are soft and juicy, and that you don't cut them crosswise into rounds - that could be a choking hazard. Here are safe ways to serve fresh, juicy strawberries for BLW:
1. Whole, with green tops or without (6+ months)
The easiest way to serve strawberries is to just give baby a big, whole berry! You can cut the green tops off or leave them on. Babies as young as 6 months will be able to pick up a very large berry and naw little bits off, then leave what he can't get. Just make sure it is a big berry and is soft enough to pass the smash test.
2. Thinly sliced or in spears (6+ months)
You can cut large berries into spear shapes, or very thinly slice strawberries vertically. Avoid cutting crosswise into 'coin' shapes as round shapes can be a choking risk. These may be a little harder for younger babies to grasp, but it is good practice!
3. Diced into small pieces (about 9+ months)
Once baby has the pincer grasp, you can start cutting strawberries into small pieces, about the size or your pinky nail. But you also don't have to! Big, whole berries still work as babies get older.
4. Frozen and thawed (6+ months)
Thawed frozen berries are a great texture for babies. Thaw frozen strawberries overnight in the refrigerator, then lightly flatten with a fork just before serving.
5. Berry compote (6+ months)
Make a one-ingredient berry compote with fresh or frozen berries for a sweet spread with no added sugar that you can serve on top of toast fingers or stirred into oatmeal. Or, serve on a pre-loaded soft spoon!
FAQ
Are strawberries a choking hazard?
Strawberries are not a common choking hazard, as long as they are big and soft.

Make sure you're familiar with the proper shape and texture of all foods for baby led weaning, and avoid these top choking hazards!
Are strawberries a common allergen?
While any food can be a potential allergen, strawberries are not a common allergen food. They can cause a reaction called Oral Allergy Syndrome in some babies, which is a mild skin reaction around the mouth where the fruit comes into contact with the skin.
When can babies have whole strawberries?
Baby led weaning babies can have whole strawberries as early as 6 months, or when they are developmentally ready for solids, as long as they are large and soft.
Are the green tops safe to eat?
Though not very tasty, strawberry greens are perfectly safe to eat, so don't worry if baby swallows some. If baby manages to remove the green top from the berry, simply take it off of his tray.