Learn how to safely serve cantaloupe and honeydew melon to babies using a baby led weaning approach with these simple tips!
Melons such as cantaloupe, honeydew, and other varieties of melon are super nutritious and a sweet treat during their peak ripeness in the summer. If your baby is starting solids, you'll certainly want to share some sweet melon with him and watch joyfully as the juices drip down his chin! Here is how to safely serve melon to baby led weaning babies.
Jump to:
Can Babies Have Melon?
Yes! Baby led weaning babies can have melon as soon as they start solids around 6 months of age. Make sure it is very ripe - you want it to be a soft enough texture that you can smush it between your fingers. It also needs to be an appropriate shape - keep reading for good shapes for baby led weaning.
It's important to always wash melons of all kinds before cutting them, as they can carry bacteria that can make baby sick. (You should also wash all produce before serving!)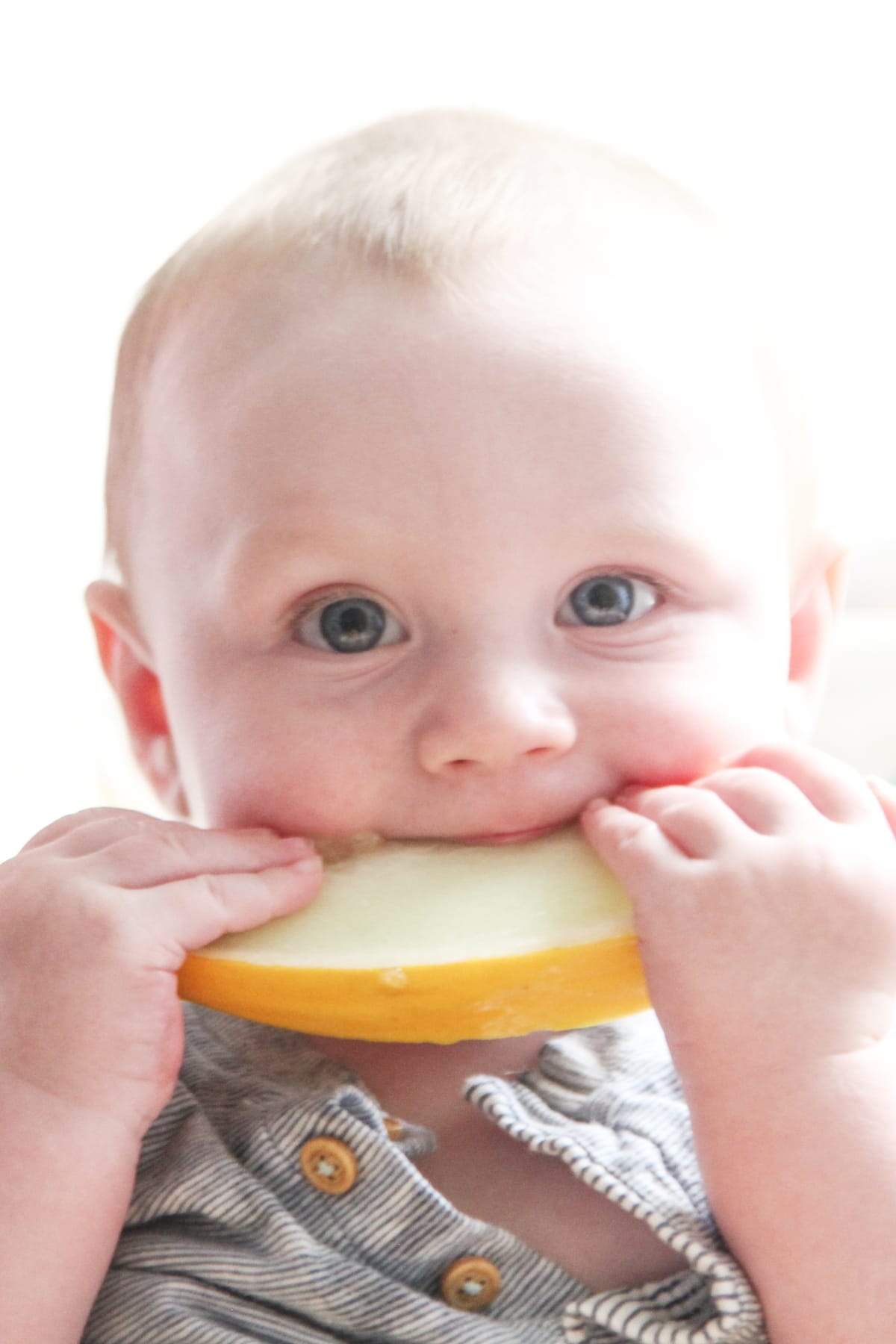 Health Benefits of Melon for Babies
Melon is a naturally sweet, nutrient-dense, hydrating fruit. A few baby-beneficial nutrients in melon include:
Vitamin C (helps baby absorb iron!)
Beta-carotene - good for baby's eyes!
Folate
Fiber
Vitamin K
Potassium
How To Serve Melon with Baby Led Weaning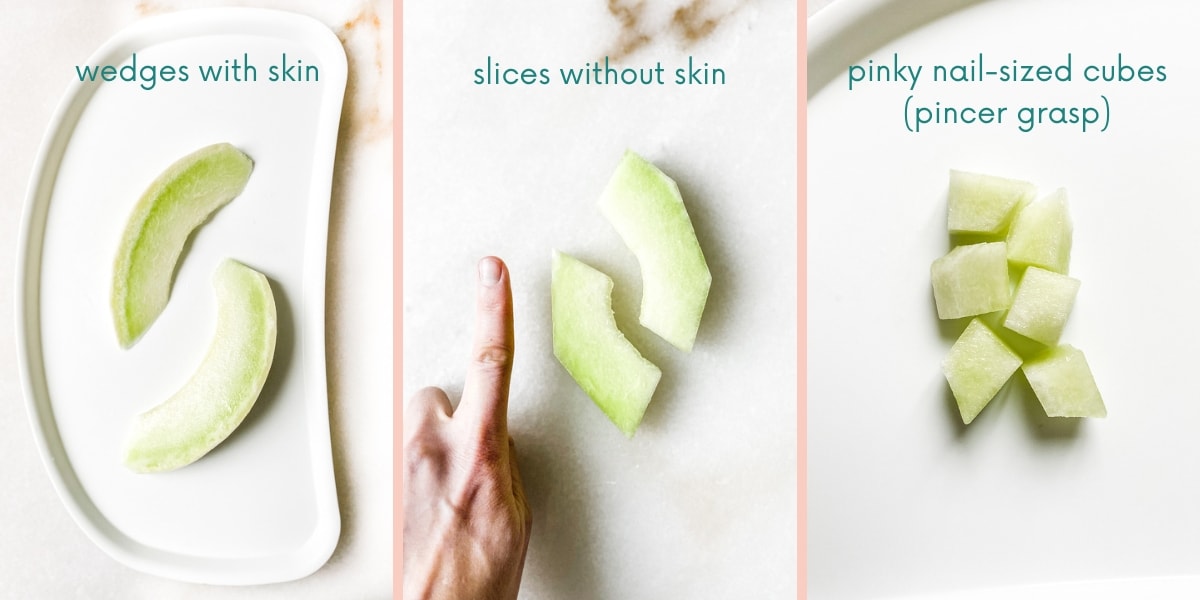 1. Wedges With Skin (6+ months)
The skin on the outside of melon can help baby grip the slippery flesh in the early weeks of starting solids. make sure the wedges are at least twice the length of baby's fist. But it can also be as long as the melon - baby will just naw on the flesh. Remove the skin once baby has teeth.
2. Finger-Length Slices (6+ months)
Slices or spears about the length of your finger or longer are also great for babies to pick up before they develop the pincer grasp.
3. Diced (9+ months)
Once baby starts to develop the pincer grasp around 9 months, you can serve melon cut into small cubes about the size of your pinky nail. Though it's fine to still offer slices, too.
Tips For Serving Melon To Babies
Always test to make sure melon is ripe enough (soft enough) for baby by using the smash test.
Make sure to always wash melon before cutting, even if you're going to be removing the skin.
Once baby has teeth, skin should be removed before serving, to avoid baby biting a piece off.
FAQ
Is melon a choking hazard?
Melon that is firm and not very ripe can be a choking hazard. Make sure to only serve cantaloupe and honeydew melon that is very ripe and juicy, and use the smash test to determine if it's soft enough for baby to gum. Once baby teeth, avoid serving it with the skin on. Be sure not to serve melon balls to babies, as the round shape increases choking risk.

Always supervise babies when eating, and review the safety guidelines for baby led weaning.
Is melon a common allergen?
No, melon is not a common allergen. However, it may occasionally cause Oral Allergy Syndrome in some babies where it comes into contact with the skin.