Learn why vitamin C is important for all babies, and how to get more in your baby's diet if you're using a baby led weaning approach with this dietitian-approved guide to high vitamin C foods for baby led weaning.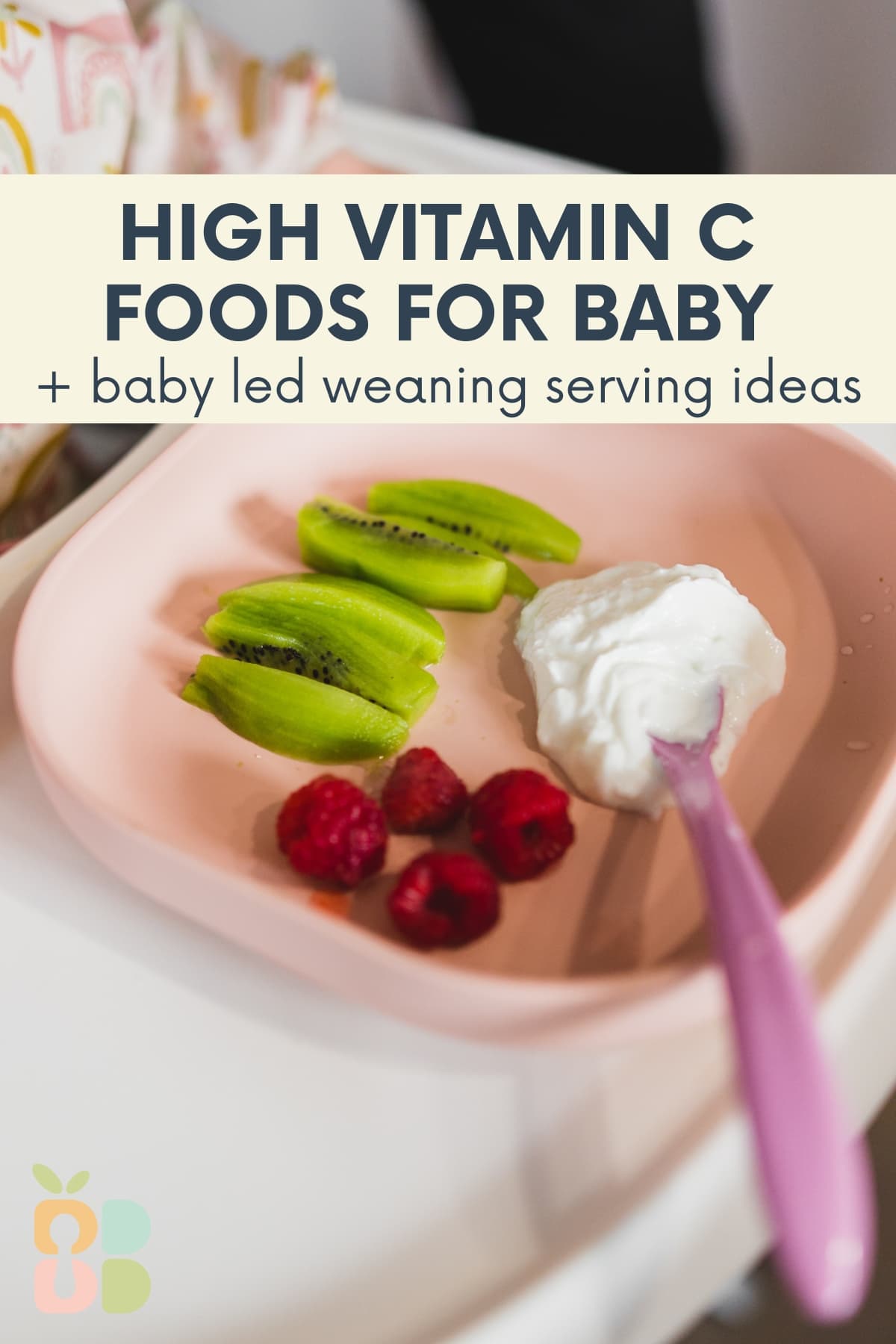 Jump to:
While not the absolute most critical nutrient for babies, vitamin C is still important when little ones are starting their first bites. Luckily, it's pretty easy to get since most babies start with fruits and vegetables. Let's dive into why your baby needs vitamin C, and how to get it easily with baby led weaning!
Why Is Vitamin C Important For Babies?
Vitamin C plays a key role in your baby's immune system. It also aids in collagen production (a protein in the body), and functions as an antioxidant, protecting your baby's cells from free radical damage. But one of the most important functions of vitamin C at this stage is helping the body absorb iron. This is especially true for vegetarian babies, since vegetarian sources of iron are less bioavailable than meat sources.
How Do Babies Get Vitamin C?
Vitamin C is an essential nutrient, meaning our bodies cannot make it, so we must get it from food. Up until 6 months of age, babies get enough vitamin C from breastmilk or formula. Around 6 months when babies start solids, they should also be given vitamin C rich foods. They will still get vitamin C from breastmilk or formula, but as they consume less milk, they'll need to get increasing more nutrients from solid food. Vitamin C is present in many fruits and vegetables.
How Much Vitamin C Do Babies Need?
The recommended intake of vitamin C for babies 6-12 months is 50 mg per day. Luckily, it's fairly easy to meet your baby's vitamin C needs from food. You can get that much alone from about ½ cup sliced strawberries!
Foods High In Vitamin C For Baby Led Weaning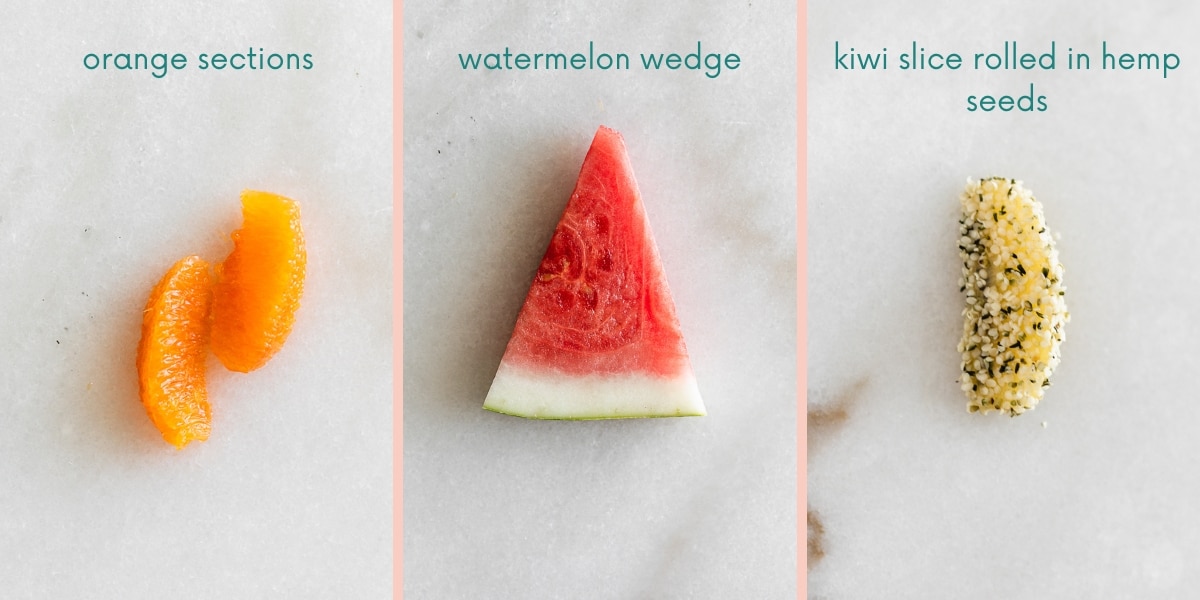 I suggest adding one of these the each meal, along with a source of iron, to help increase iron absorption.
Bell pepper - roasted or grilled, skin removed and sliced into strips
Citrus fruit - such as oranges or grapefruit, segmented so that all membranes are removed
Fresh soft strawberry - large and whole, or cut vertically into fourths. Or frozen strawberries, thawed
Kiwi - Sliced, with the skin on or rolled in wheat germ or hemp seeds for easier gripping, or plain
Broccoli - Large florets cooked soft
Soft ripe raspberries or blackberries - lightly smashed
Soft ripe papaya - large slices at least finger-sized
Brussels sprouts - large, cooked soft and quartered
Cantaloupe or honeydew melon - large slices at least singer-sized, or wedges with the skin
Soft ripe tomato - large wedge
Tomato sauce - served on pasta
Seedless watermelon - wedge with the rind or cut into large strips without rind
Cauliflower - Large florets cooked soft
Sweet potato - roasted in large wedges, or mashed
Spinach - chopped finely and sautéed, steamed, or baked into egg dishes
Be sure to read how to modify recipes for BLW and the safety guidelines for serving all foods to babies before beginning baby led weaning!