Spinach is one of the healthiest vegetables for little ones! Give your baby a taste of this leafy green from the beginning with these helpful tips for serving spinach with baby led weaning! In this article, find out the benefits of spinach, how to prepare it for babies, and how to safely serve it to BLW babies.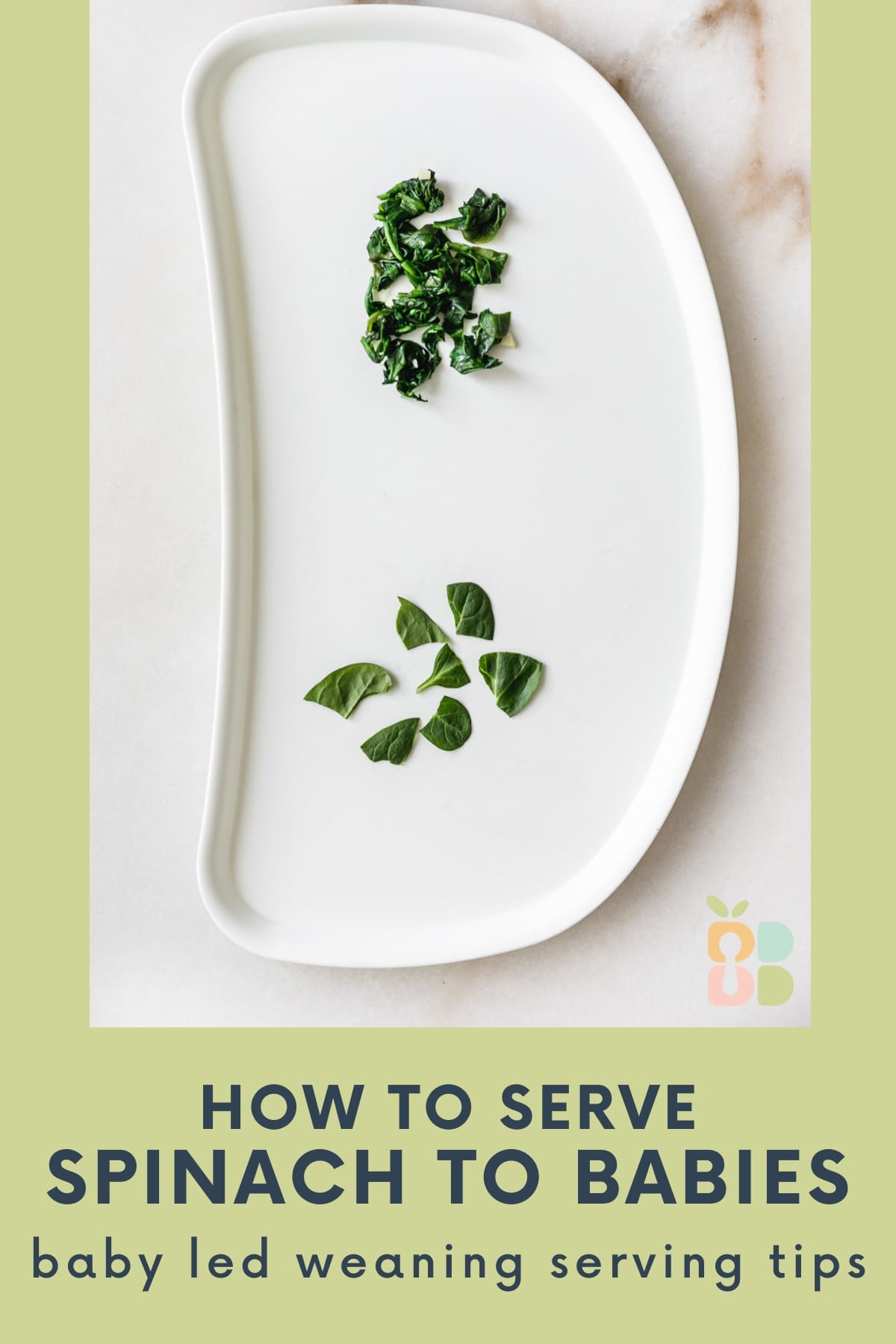 Leafy greens such as spinach are incredibly rich in nutrients. But spinach can be a little confusing to serve to baby led weaning babies since young babies cannot eat raw greens. But it's important to introduce leafy greens early, since doing so can help your baby develop a taste for them and other veggies. Here's everything you need to know about safely serving this healthy green veggie to your little one!
Jump to:
Can Babies Have Spinach?
YES! Babies can have spinach as soon as they start solids around 6 months. Though raw spinach leaves are challenging for little ones to both pick up and to chew and swallow safely, cooked spinach is perfectly safe for them. Just make sure it is cut up, as larger pieces of either raw or cooked spinach can stick to baby's tongue, causing gagging.
Baby Health Benefits of Spinach
Spinach is high in several important nutrients for baby. These include1,2:
Vitamin K, which is important for bones and blood
Carotenoids, which help baby's eyes
B-Vitamins, including folate
Iron, though plant-based sources are not absorbed as well as animal-based sources
Other minerals, including magnesium, calcium, potassium, and manganese
Vitamin C, which can help with iron absorption
Several plant compounds, including lutein and zeaxanthin (great for eye health), quercetin and kaempferol (antioxidants)
Soluble fiber, which can help prevent constipation
How To Prepare Spinach for Babies
Generally, spinach should be cooked for babies under 1 year, unless it is very finely chopped. You can steam, boil, or sauté it until bright green and softened. Then cut it into small pieces. You can also give baby frozen spinach which has been heated, as frozen spinach has already been blanched and chopped, and is soft when thawed.
I find spinach sautéd in a little olive oil and garlic to be the most tasty! Simply heat a small drizzle of oil in a pan over medium heat, add a chopped clove of garlic, and a large handful of spinach. Cook, stirring, until the spinach is wilted. Then chop for baby!
How To Serve Spinach Using Baby Led Weaning
Cooked and chopped (6+ months)
For younger babies, spinach should be cooked until soft and chopped into small-ish pieces.
You can serve raw spinach at this age, but it should be very finely chopped, like you would chop herbs for a recipe. This can be mixed into rice, oatmeal, yogurt, etc. or drizzled with olive oil and citrus juice. In my opinion, cooked is more tasty and less messy.
Chopped or torn into small pieces, raw (18 + months)
Older babies who have had plenty of time to practice chewing can be served raw spinach torn into very small pieces (about ½-inch) around 18-24 months. Drizzle with a little dressing for more flavor!
In recipes
One of the easiest ways to serve spinach (and for babies to eat it) is probably in a recipe. Chopped raw or frozen spinach can be incorporated into many foods, such as omelets and frittatas, pasta, creamed spinach, soups and stews, smoothies, and even muffins or pancakes. Use your own favorite recipes, or try one of the suggestions below!
TIP: You can also use these serving methods and recipes for other leafy greens, such as Swiss chard, kale, and collard greens!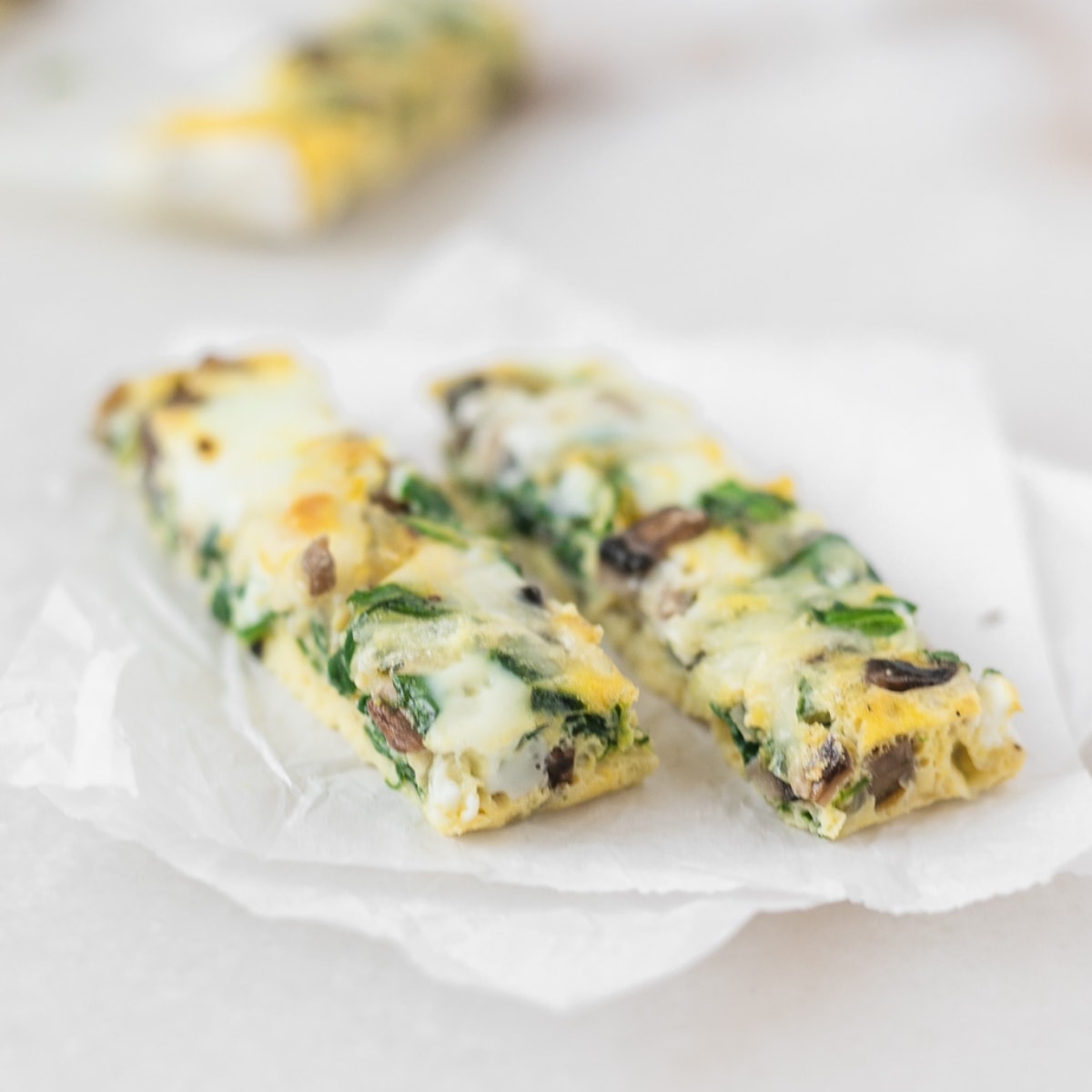 Baby Led Weaning-Friendly Spinach Recipes
FAQ
Is spinach a choking hazard?
No, spinach is not a common choking hazard, though it may get stuck on baby's tongue and cause gagging, which is not harmful. Spinach should be cooked and chopped for babies. Remember, it is important to always supervise babies and children when eating and to serve foods in an appropriate size, shape and texture for their abilities.
Is spinach an allergen?
Spinach is not a common allergen. Rarely, it can trigger oral allergy syndrome in people who are allergic to latex.