Wondering how you can offer bell pepper to your baby? Here is everything you need to know about safely serving sweet bell peppers for baby led weaning, including preparation, how to cut peppers for BLW, and baby friendly recipes!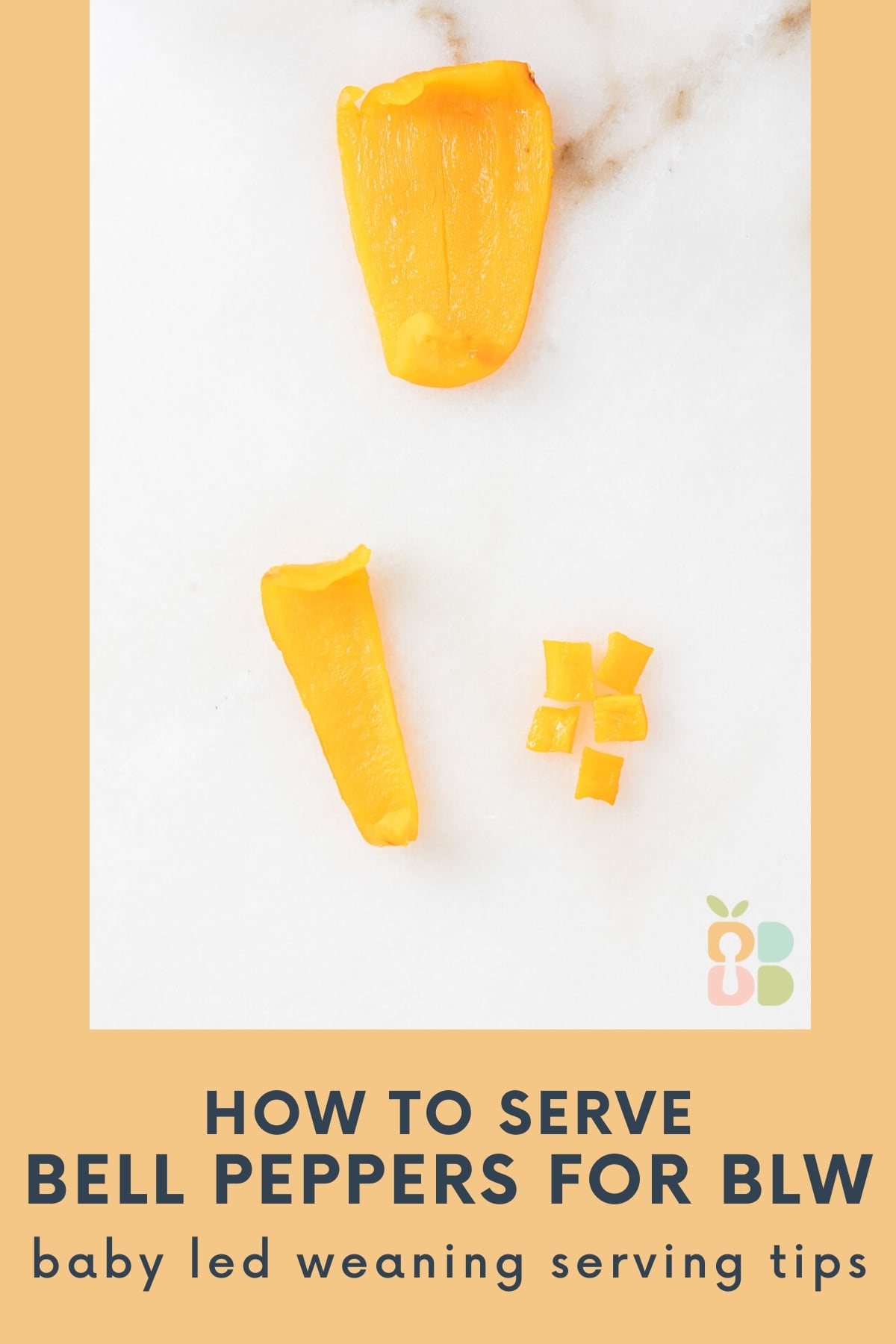 Bell peppers are used in so many delicious dishes, especially in summer months when they're abundant. Just because your little one doesn't yet have teeth, doesn't mean he should miss out on the sweet flavor of bell peppers! Cooked bell pepper is not only a new taste for baby to explore, but is also very nutritious, so it's worth the little extra effort it takes to prepare it for baby led weaning babies. Here's how to safely serve sweet peppers using a baby led weaning approach.
Jump to:
Can Babies Have Bell Peppers?
Yes! As soon as babies are developmentally ready for solids, around 6 months, they can eat bell pepper. Because peppers are crunchy when raw, they must be cooked so that they are soft enough. Optionally, the fibrous skin can be removed after cooking to help younger babies. I'll share more details on exactly how below.
Health Benefits of Peppers for Babies
Bell peppers are a good source of several important nutrients, including vitamins A, B6, K and E; folate, potassium, fiber and antioxidants. But where peppers really shine is their vitamin C content - they are loaded with vitamin C! This vitamin helps increase iron absorption, so it's a good idea to serve alongside iron-rich foods.
Green bell peppers are usually not as sweet, while yellow, orange and red peppers are sweeter. All are equally nutritious!
How To Prepare Bell Peppers for Baby Led Weaning
In order to safely offer bell pepper to babies, the pepper must be cooked until soft. You can test the texture by pressing it between your thumb and index finger. It should easily smash between your fingers.
The stem, white pith and seeds should be removed. Optionally, you can also remove the skin. The skin can stick inside baby's mouth, making it more difficult to manage, especially for newer eaters.
How To Remove the Skin
Immediately after cooking, wrap the pepper tightly in foil or place in a bowl and cover with a lid or plastic wrap for about 10 minutes. This will allow the pepper to steam and the skin to separate from the flesh more easily. Then you can uncover and use your hands to slip the skin from the pepper. This will be easiest with whole bell peppers.
Best Cooking Methods
Bell peppers can be cooked in a number of ways, including grilled, roasted, sautéd, or stewed. They'll most often be used in some kind of mixed dish, so just be sure to cook them long enough that they are very soft. Roasting or grilling is one of the best ways to cook a whole pepper so that you can easily remove the skin after cooking - and they're delicious!
Tip: Jarred roasted red peppers are a great texture for babies and will save you a few steps! Rinse peppers after removing them from the jar.
How To Cut Bell Peppers for Baby Led Weaning
1. Cooked half or third (6+ months)
For younger babies without a pincer grasp (about 6 - 9 months) bigger is better! This allows baby to more easily grip the pepper and the have something to hold onto while nibbling away at the flesh. Serve soft cooked bell pepper with skin removed (optional, but recommended for the earliest eaters), as a half or a third of a pepper.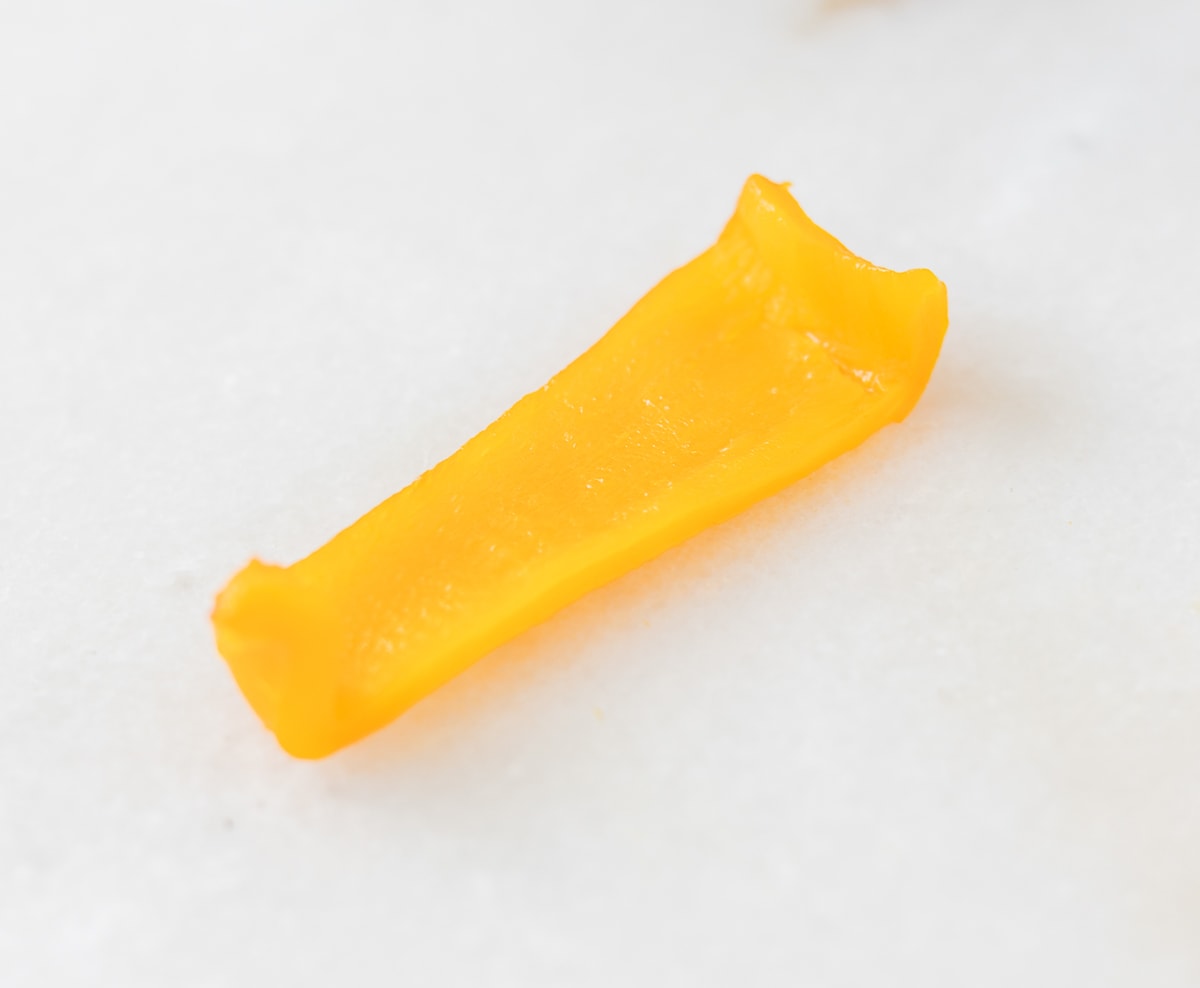 2. Cooked strips (6+ months)
While a half may be easier for younger babies to pick up, you can also serve soft cooked bell peppers (with skin, seeds and pith removed) in strips. Offer wider strips for the earliest eaters, and cut them thinner as babies gain experience. If strips of pepper are already cooked and removing the skin is not possible, you can leave it on. Just know that baby might struggle to actually eat any of the pepper and may get bored with it. That's ok! He'll still get to experience the flavor!
3. Bite sized pieces (9+ months)
When baby has started to develop a pincer grasp (usually around 9 or 10 months), you can start cutting cooked bell pepper in small pieces, about the size of your fingernail. It is usually not necessary to remove the skin at this point.
4. Finely chopped or pureed (6+ months)
Bell peppers can also be offered to babies at any age in a dip, sauce, spread, or other recipe where the pepper is pureed or very finely chopped and cooked, such as hummus, pasta sauce, or a frittata.
BLW Friendly Recipe Ideas with Bell Peppers
FAQ
Are peppers a choking hazard?
When raw, yes. Uncooked bell peppers are firm and slippery, making them a choking risk, especially once baby can bite off pieces. Always make sure foods are cooked to an appropriate texture for baby led weaning.
Are peppers a common allergen?
No, bell peppers are not a common allergen. However, those with Oral Allergy Syndrome can react to bell peppers. They are also part of the nightshade family, which some people can be sensitive to.
When can I serve raw bell peppers?
Because raw bell peppers are a choking risk, it is best to wait until the toddler stage before serving raw bell pepper. If you feel comfortable, start by offering paper-thin slices of raw bell pepper between 12-18 months before gradually moving up to thicker slices.