Pineapple is a delicious new taste for babies to try! Here is everything you need to know about serving pineapple to babies using a baby led weaning approach, including how to cut pineapple for babies and safe serving methods for 6 months and older.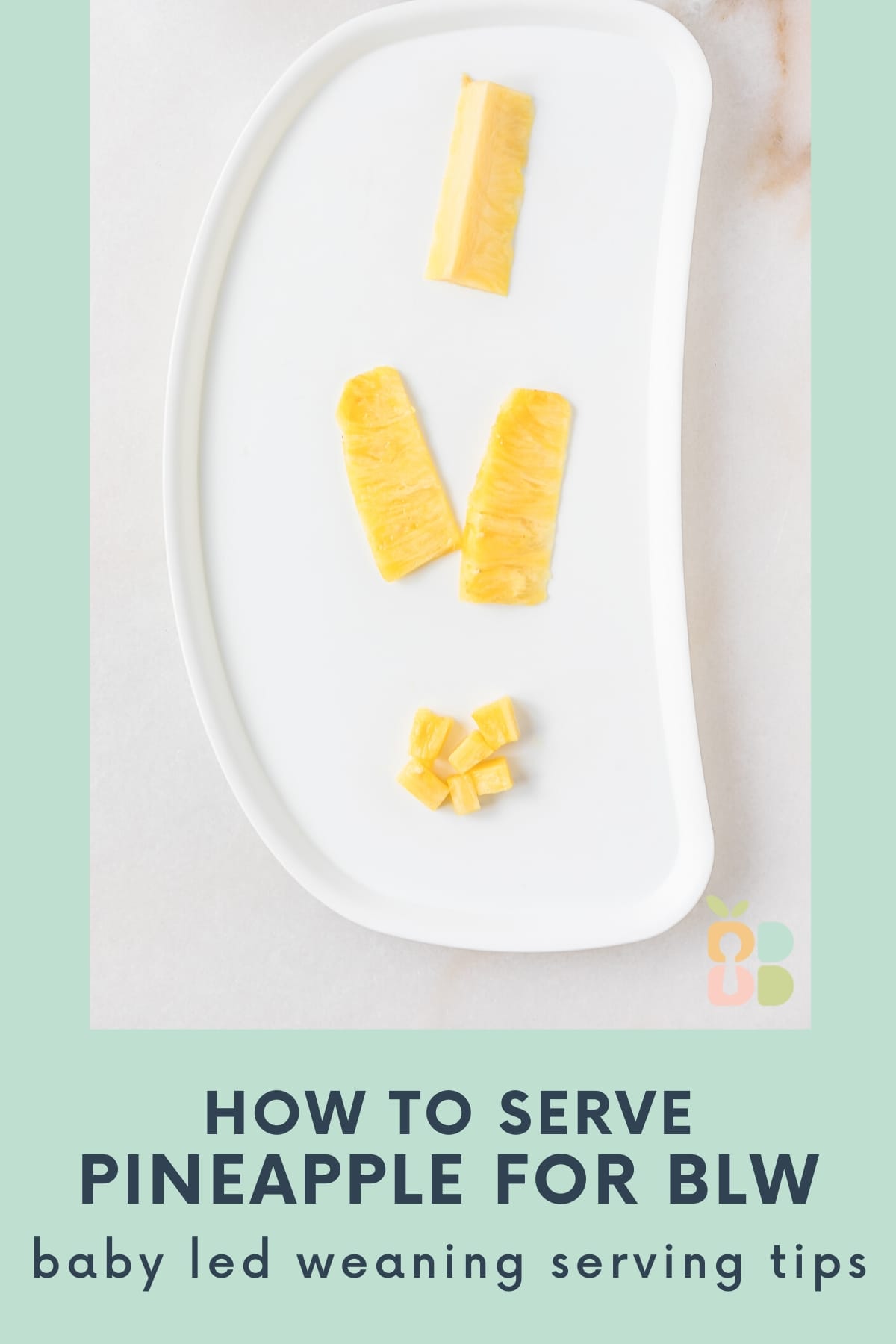 If you love a fresh, juicy pineapple, you're not alone! This sweet fruit is a delicious treat, and one that you'll want to let baby experience, too. Pineapple is a great new food for baby led weaning babies to try, you just have to know how to cut it correctly to avoid a choking hazard. Here's all you need to know about serving pineapple to your BLW babe.
Jump to:
Can Babies Have Pineapple?
As soon as babies are developmentally ready for solids, usually around 6 months of age, they can have pineapple. Because pineapple is not naturally a soft, mushy food, or easily pureed, it is best suited for a baby led weaning approach, or for babies who are in the finger food stage. It should also be cut in a way that it is safe for the youngest eaters.
Health Benefits of Pineapple for Babies
Pineapple contains several important nutrients, but it is especially high in vitamin C, which helps baby absorb iron, and manganese, which is important for growth. Pineapple also contains fiber, which is good for baby's digestion and disease-fighting antioxidants.
How To Serve Pineapple for Baby Led Weaning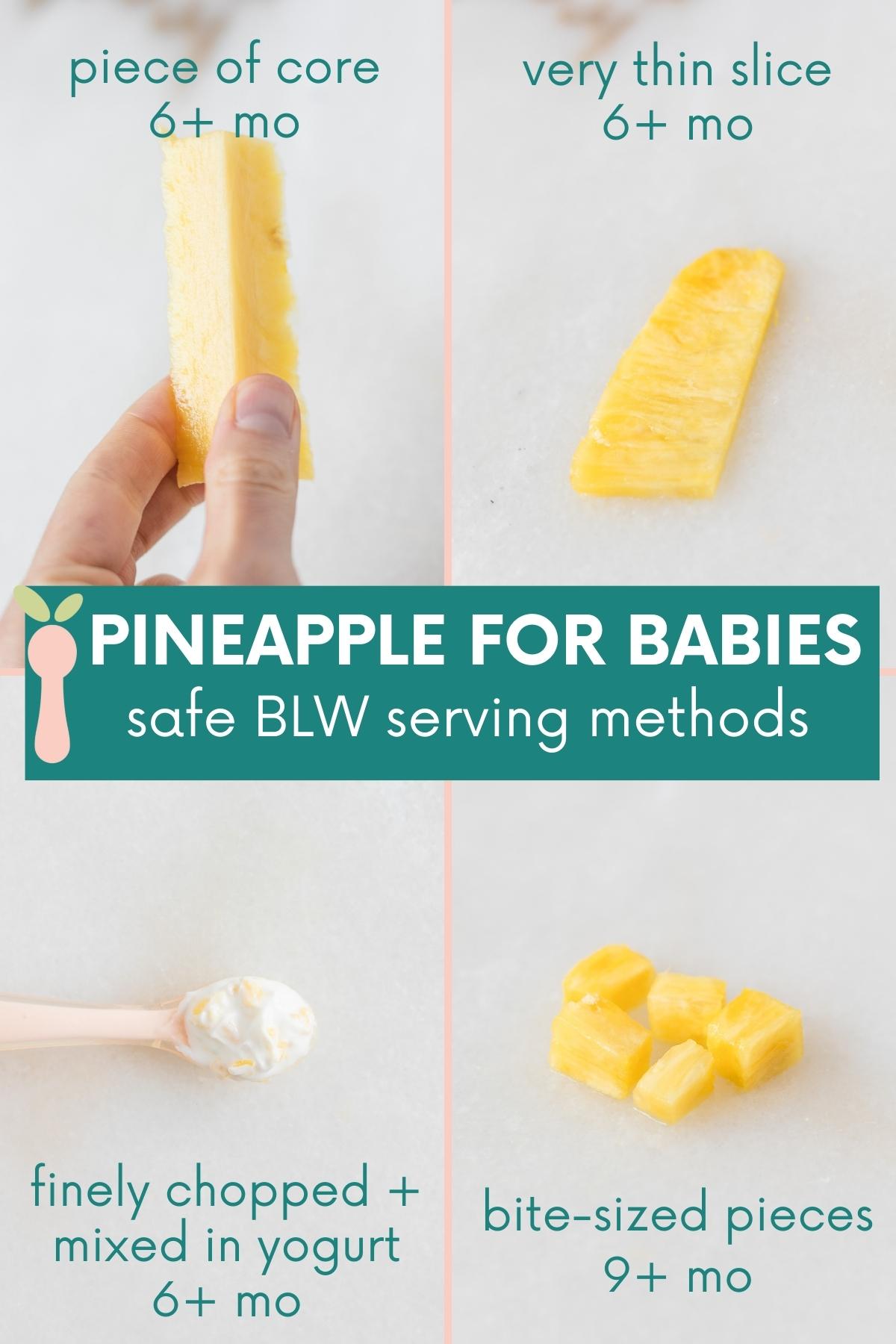 Because pineapple is not the super soft, and can be slippery, it must be cut in an appropriate way for baby led weaning in order to avoid a choking hazard. Pineapple should also be very ripe so that it isn't too hard. Here are a few ways to cut and serve pineapple for baby led weaning or self feeding babies.
1. Pineapple core (6+ months)
You can give inexperienced eaters (about 6 months) a long strip of pineapple core without much fruit attached. Baby can naw on the core and suck out the juices without the risk of biting off big chunks. To get a piece of core, cut the skin from all the way around the pineapple, then cut vertically into fourths. The core will be at the center of each fourth, so you can cut it off in one long piece, then cut that core into shorter strips for baby.
2. Very thin strips (6+ months)
If you feel comfortable, you can give offer pineapple in long strips sliced very thinly, about ⅛ inch. Young babies with a palmar grasp should still be able to pick these pieces up and nibble on them without the risk of biting off too big of a chunk.
3. Finely chopped (6+ months)
Pineapple can also be chopped finely and stirred into plain yogurt, oatmeal, or served on its own on a pre-loaded soft spoon. This is appropriate for all ages of BLW babies, and can be great for utensil practice once baby starts trying to use a spoon by himself.
4. Small pieces (9+ months)
Once baby develops a pincer grasp, usually around 9 or 10 months, you can start to offer small pieces about the size of your pinky nail.
FAQ
Is pineapple a choking risk?
Because pineapple can be firm and slippery, it can be a choking risk if served in big chunks. Always make sure you serve pineapple in an appropriate shape to avoid choking, and always supervise closely while baby eats any food.
Is pineapple a common allergen?
No, pineapple is not a common allergen. However, allergies to pineapple exist and are more common in people with a latex allergy. People with oral allergy syndrome may react to pineapple, which is typically a local reaction to the mouth. Pineapple also contains an enzyme called bromelain, which could cause skin or mouth irritation, but it is not life-threatening. Cooking pineapple can reduce or eliminate oral allergy syndrome reactions and reactions to bromelain.
Does pineapple need to be cooked for babies?
No, pineapple does not need to be cooked before serving to babies. You should, however, make sure it is ripe enough that it is soft, or serve a firm core with little flesh on it.
Is canned pineapple ok?
While not as good as fresh, canned pineapple is okay as long as it is canned in 100% juice and not syrup. Still be sure to follow the serving guidelines for safety. Frozen, thawed pineapple is also a good option, as it does not contain added sugar.