When researching baby led weaning, you may hear the terms 'palmar grasp' and 'pincer grasp'. Today I'm explaining the palmar grasp, why it is important to distinguish when starting solids with your little one, and how to prepare food for babies with a palmar grasp.
When it comes to starting solids with a baby led weaning approach, your baby's eating skills will determine the best shape of food to offer. As baby's skills progress, you will change the way some foods are offered in order to help foster the development of motor skills and to ensure safety when eating. Let's take a look at the grasp your baby will have when you're first starting out with solids using BLW, around 6 months of age - the palmar grasp. Then we'll explore how to prepare food for this developmental stage.
Jump to: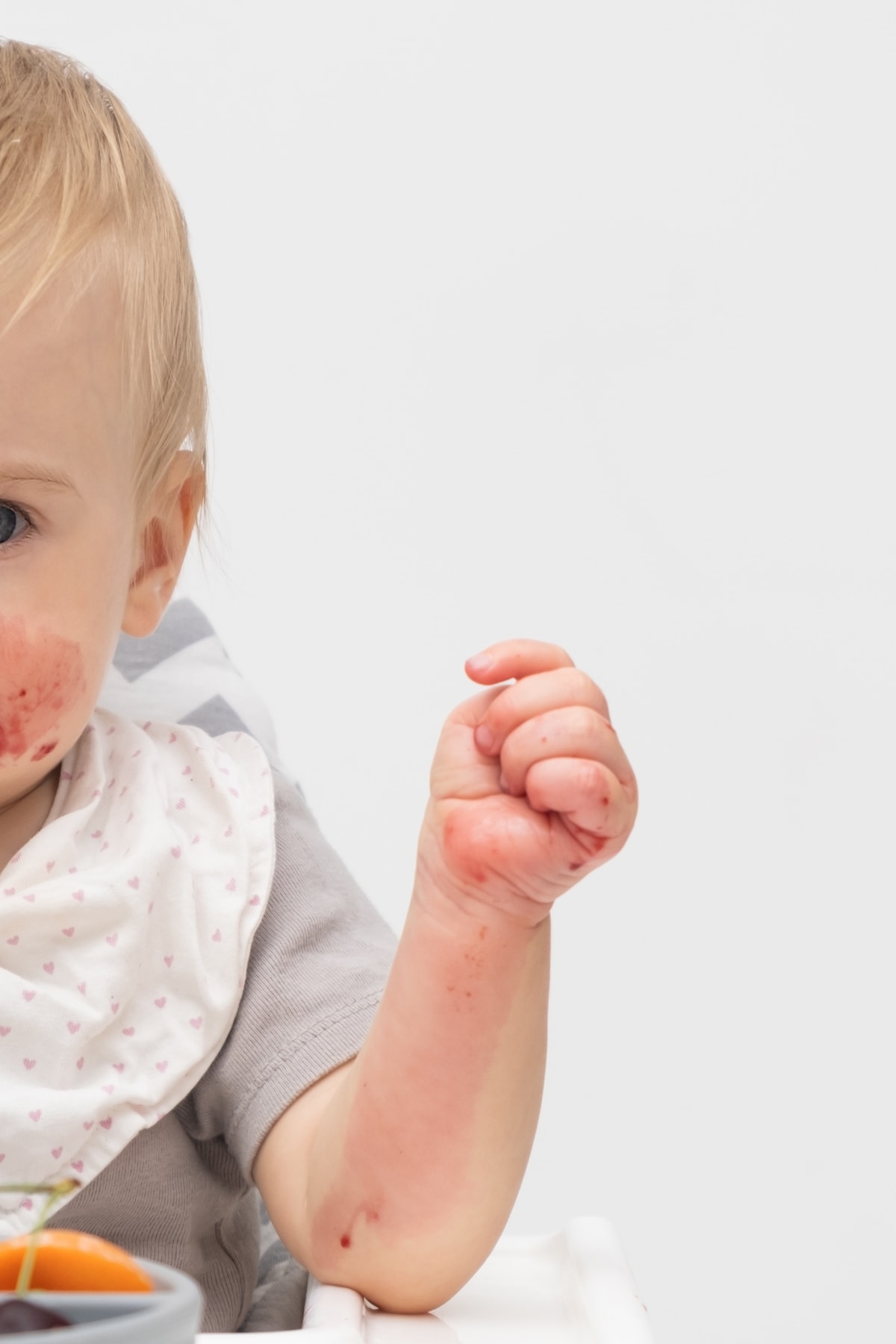 What Is a Palmar Grasp?
A palmar grasp is the method of gripping objects that babies are born with. It is a reflex in response to an object placed in an infant's hand, developed in the womb. The infant will wrap his fingers around and object, making a fist. Think about a baby wrapping his hands around your finger. This is the way your little one will first pick up pieces of food when starting baby led weaning, and will inform how we serve the first bites. Usually by about 6 months, the palmar reflex disappears, but the baby still voluntarily uses the palmar grip to pick up objects as he develops better hand and finger control.
Stages Of Baby's Grasp Development
Babies develop the motor skills of grasping objects in stages. You may notice this change over time, especially with baby led weaning as you watch your baby pick up food and bring it to his mouth over in different ways.
Palmar grasp: Baby brings fingers in toward the palm, curling fingers around an object - think baby wrapping a tiny hand around your finger.
Raking: Baby uses the fingers other than the thumb like a rake, curling the top of the fingers over the object to bring items toward him.
Early or inferior pincer grasp: Baby uses the pads of the index finger and thumb to pick up small objects. This is the precursor to pincer grasp development.
Pincer grasp: Baby uses the tips of the index finger and thumb to pick up small objects. This is the "true" or "superior" pincer grasp that requires practice and coordination.
Read more: What is a Pincer Grasp?
How Does Baby Use A Palmar Grasp To Eat?
When baby is developmentally ready for solids (around 6 months of age) and you choose to use a baby led weaning approach, baby will still be using a palmar grasp to pick up objects. This includes food! Baby will grasp pieces of appropriate food in his fist and bring the whole fist to his mouth. He'll typically keep holding onto the food while sucking on the portion of food sticking out of his fist. Once he's ready to move on from that piece of food, he'll drop it and move on to another. This motion will gradually evolve to a raking motion and onto a pincer grasp as baby's motor skills develop.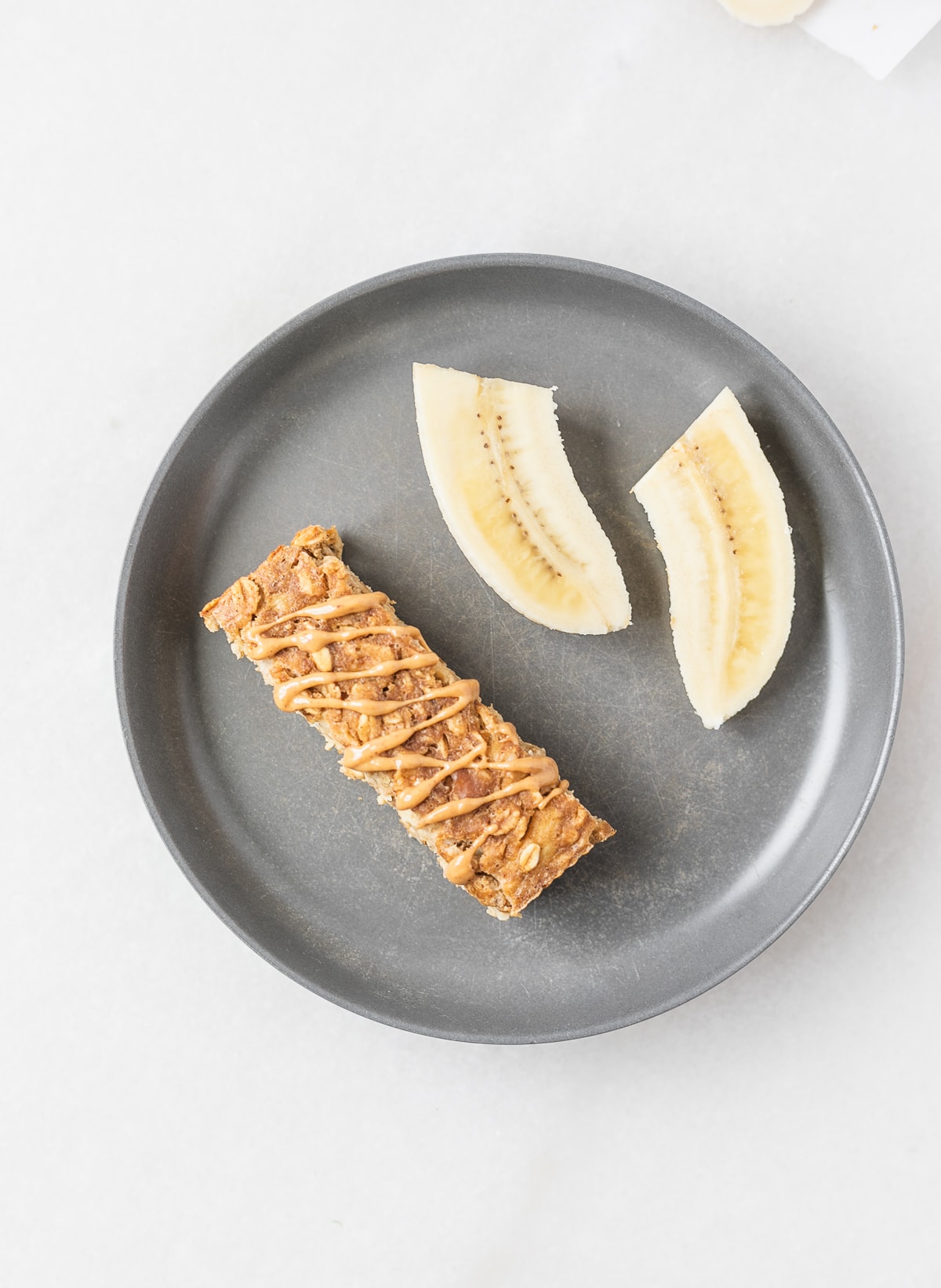 How To Prepare Food For Babies With A Palmar Grasp (About 6-9 Months)
For young babies with the palmar grasp (and the later raking motion), bigger is better. This means long strips of food about the length and width of an 1-2 adult fingers. Food should be long enough that some can poke out of baby's fist for him to nibble on while he holds onto the 'handle' end of the food. (Also keep in mind that food should always be an appropriate texture in order to prevent choking.) Some examples include soft cooked large carrots, halved banana, strips of omelet, finger-shaped meatballs, or lightly toasted bread 'fingers' spread with peanut butter.
As baby gets older and refines the pincer grasp (which will develop anywhere from 9-11 months), you will move to smaller pieces of food.
Read more in depth about appropriate shapes of food through the stages of baby led weaning.
Palmar Grasp Activities
While the palmar reflex is natural in babies, you can help stimulate the voluntary nature of the palmar grasp (and subsequent release of an object) by interacting and playing with baby:
Provide both tummy time and back play time with toys and objects to reach for, grasp, and play with. Offer dangling objects during back time to encourage reaching and grasping.
Encourage baby to find her own hands in front of her.
Practice grasping and releasing by gently tugging on a stuffed animal or blanket.
Offer a variety of sensory stimulation by incorporating various sizes, shapes, and textures of toys and teethers (bumpy, smooth, squishy, soft, etc).