If you've decided on a self-feeding approach, or baby led weaning, for starting solids with your baby, you may be wondering how to begin. Start with confidence with these dietitian-approved tips for starting baby led weaning and suggestions for baby's first foods.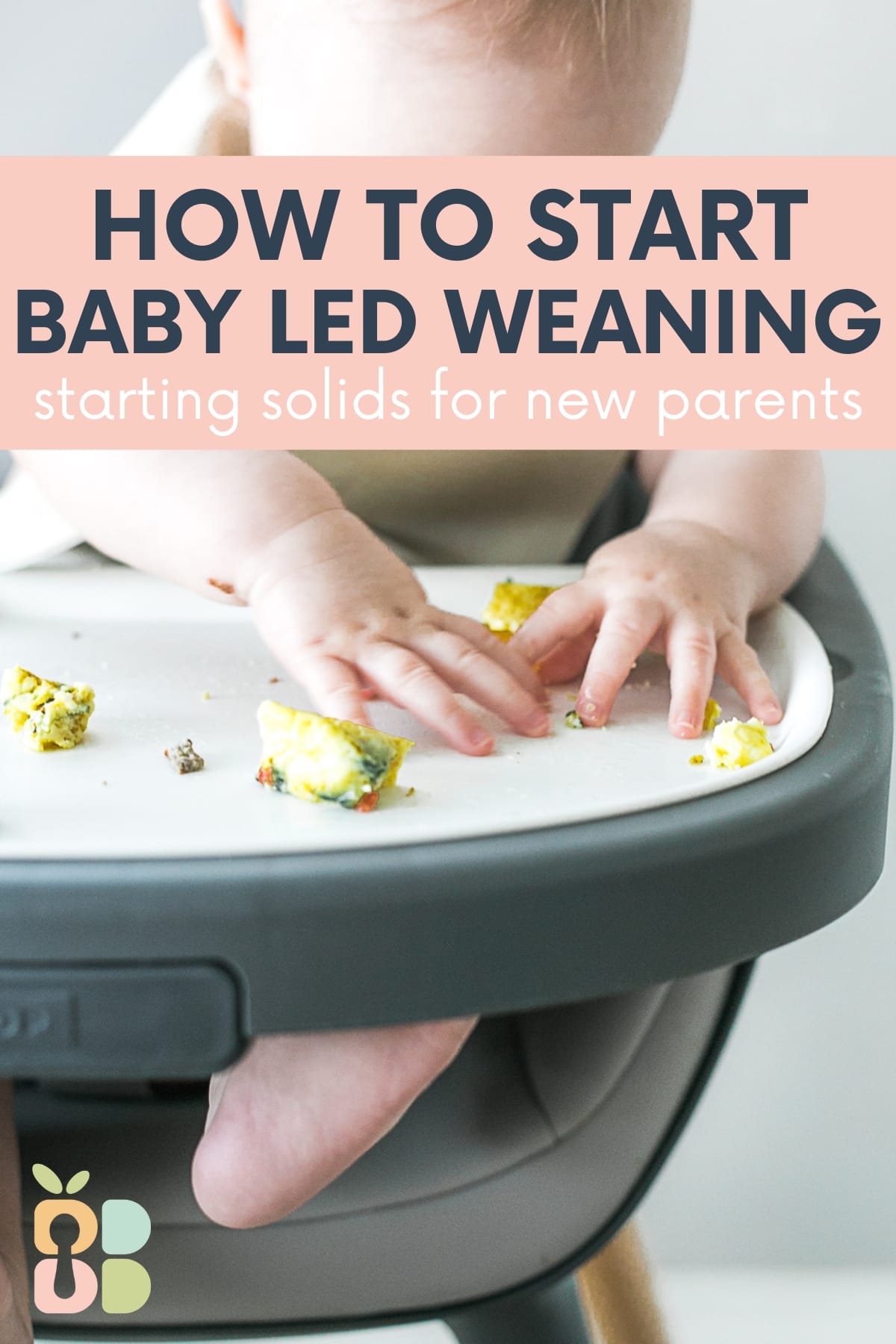 So you've decided baby led weaning is right for you. Great! If you're a first time parent, you may be confused about how to begin, or even scared to start. That's completely normal! It can be especially confusing if your pediatrician isn't on board with BLW, because they'll typically give you zero guidance and advise you to go the traditional route of feeding purees, and give you the protocol for that. Don't worry! I'm here to guide you through the first steps of baby led weaning.
Jump to:
When To Start Baby Led Weaning
Some pediatricians recommend introducing solid foods to baby at 4-6 months of age, while continuing to give breastmilk or formula until at least 1 year of age. The AAP has updated their recommendations, shifting to starting at 6 months for all babies, regardless of method. With baby led weaning, introduction might occur at 6 months or later, as baby needs to show signs of readiness before you introduce solids.
Signs that baby is ready to start solids:
Sitting up unassisted with good head control
Grabbing and holding on to objects/bringing objects to the mouth
Expressing interest in food you're eating
Read More: When To Start Baby Led Weaning
How To Start Baby Led Weaning
Once your baby shows signs of readiness, just start! Jump right in by offering baby an appropriate food, following these guidelines:
Steps For Offering Food When Starting Baby Led Weaning:
Choose a time that the family is eating a meal or snack.
Before offering food, make sure baby is not too hungry or tired. You should nurse or bottle feed at her normal time so she is fed and doesn't get too frustrated or fussy.
Set baby in her high chair, or in your lap. You can remove baby's clothes if you'd like, or put on a baby smock or bib. (See more of my favorite product picks to make BLW easier!)
Place a piece of appropriately textured food on baby's tray (more details on that below), and let her explore! If she has trouble picking it up off the tray at first, you can try holding it out for her to reach for and take from you. Never put food in baby's mouth, as that can be a choking hazard.
That's it! You've begun! You can start with 1-2 'meals' per day while baby practices (and you get used to cleaning up after every meal!) and gradually increase to more meals and more foods offered as baby's skills and appetite increase.
Do I Keep Breastfeeding or Giving Bottles When Starting Solids?
Yes! At this stage, milk should still be given on demand, as it is still the most nutrient-dense food and the primary source of baby's nutrition needs. Introduction of complementary food is mostly for learning and exploring the process of eating right now. In addition, baby led weaning works best when you continue to offer milk as normal. That way baby can enjoy playing with and tasting food without being cranky due to hunger. As long as you let baby be in control of how much she eats, intake of solids will gradually increase as she learns, and milk will gradually decrease to fit her needs.
First Foods For Baby Led Weaning
Which food should you offer to baby first? Ultimately, it comes down to what you're eating that day and what you are comfortable with offering within a few guidelines! The first foods you offer your baby should be both texturally and nutritionally appropriate. You also want the food to be a shape that baby can easily pick up.
Texture of Food - The Smash Test
You should offer foods that babies can easily mash with their gums. You can test for appropriate texture by placing the food between your thumb and forefinger and pressing to see if you can mash it. Otherwise, it must be fibrous enough that pieces cannot be broken off without teeth - such as pieces of meat or cucumber spears without skin.
Shape of Food - Finger Shaped
The food should also be in a shape that baby can easily pick up. I recommend cutting pieces of food about the length and width of one or two fingers. Babies grab your fingers when they interact with you all day, so they can easily grasp this shape with their palms.
Read more: The Right Shape of Food for BLW
Nutritious Food for Babies
Nutritionally speaking, babies should not be given food with added sugar, and salt should be somewhat limited. Try to avoid highly processed packaged foods as much as possible as these are common source of salt and sugar.
A few common first foods that are safe for baby led weaning:
Banana
Avocado
Sweet Potato
Eggs
Strawberry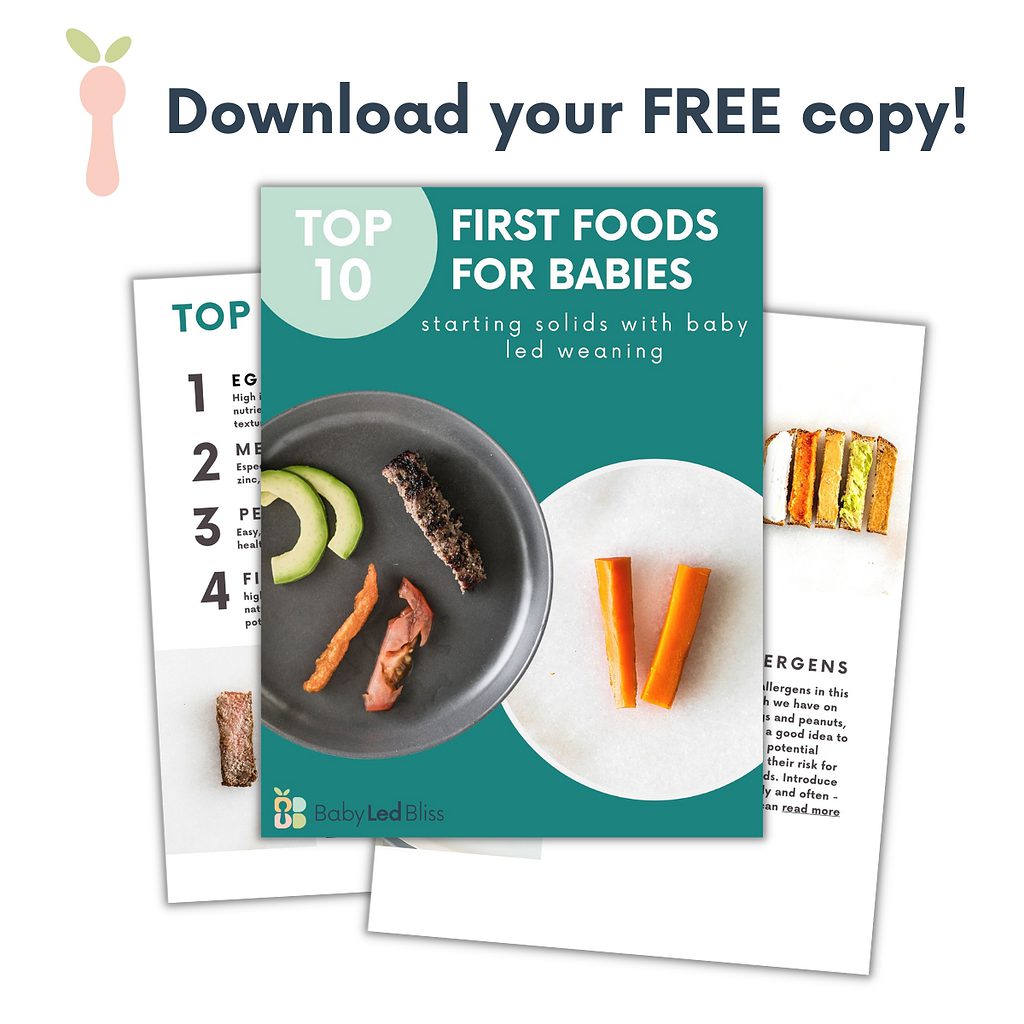 A Few Things To Know Before You Get Started With Baby Led Weaning
Don't worry about how much actual food baby eats. At the beginning, baby led weaning is less about how much food is ingested and more about exploring and learning to eat. The majority of baby's nutrition will still be coming from breast milk or formula, so don't worry too much about the quantity of food.
Gagging will happen. Before you get started, I recommend watching a video or two on the difference between choking and gagging to get a little more comfortable with gagging. Gagging is an essential reflex that baby will use when they can't swallow a particular food - it's a good thing! Whereas choking is dangerous.
It will be messy. Baby led weaning is messier than spoon feeding at the beginning, and that's okay! Baby is exploring and learning to use those tiny hands and mouth. Know that you will be cleaning up a lot of messes, but as your little one masters new skills, the mess will decrease. And honestly, I think the messiness lasts for a shorter period than spoon feeding because they develop eating skills more quickly with BLW.
More Helpful Content On Starting Baby Led Weaning:
Do you have questions about introducing solids to your little one? Drop them in the comments!